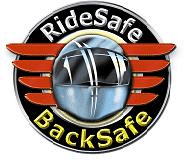 RideSafe BackSafe is expecting many thousands of bike riders and pillions to make long journeys to Lancashire and Merseyside during the next ten days and virtually all of them will travel through Liverpool and Heysham ferry ports.

James Whitham, motorcycle racing legend, race commentator and a RideSafe BackSafe Ambassador explains;-

"The TT event is a high octane racing extravaganza, steeped in history, fuelled by passion and supported by thousands from across the world and the excitement is building well before the event. Bikers need to take it steady on the ride in and the ride home; particularly if they are unfamiliar with the local roads. Save racing for the track and leave the risk-taking to the professionals on closed roads".

For more information about a road safety initiative dedicated to the well-being of motorcyclists, visit www.ridesafebacksafe.co.uk



Launched in April 2006, the RideSafe BackSafe Initiative is run by bikers for bikers. Our main aims for this year are to;

∑ Increase other road userís awareness of the vulnerability of bikers on the road and emphasise the need to THINK BIKE and LEAVE ROOM.

∑ Promote defensive road riding for effective risk assessment and encourage bikers to improve their skills through training.

∑ Explain the benefits of and reason why protective clothing should be worn.

The RideSafe BackSafe team includes the Lancashire Partnership for Road Safety, Drivesafe (Greater Manchester Casualty Reduction Partnership), IAM, BMF, MAG and KillSpills.

We are working together for the community and focused on reducing casualties on our roads.