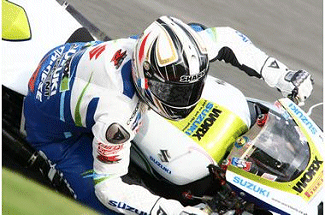 "I am looking forward to Donington because I know it well, but also because I know it will suit the Suzuki. This track - and I think also Thruxton and Snetterton - will show just how powerful the GSX-R1000 is.

"Since the last round we have been testing at Mallory Park where we put in many laps and we were very pleased with our lap times. I was also able to practice my starts - I think it was very important to do that! I have now changed my technique and we have some new parts that will make a difference as well. I think my start should be better now.

"The racing this weekend is going to be very close though and I can see many battles. Leon Camier is my main rival - he took over my championship lead - but I can see the other riders are now much stronger."

Team Manager Jack Valentine agrees with Guintoli's predictions. He said: "I'm looking forward to this weekend as we can expect Sylvain to be on the pace from the word go. He'll need to be for, as he said, this is likely to be a very tough BSB round. Obviously we're setting out to reverse the championship positions with Leon Camier, but we have to be aware other riders are likely to be stronger too - like the Australian Josh Brooks, as this is a known circuit for him as well.

"The GSX-R1000 will be very much set-up as it has been from the beginning. We're very happy with its performance and we're only making fine adjustments each time, although as always we view it as an ongoing development project.

"Our priority is to keep getting those podiums, but Donington's also a chance for us to again be right at the front."