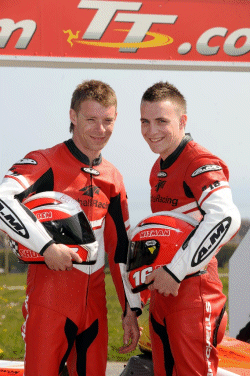 The Mitchells of Mansfield sponsored brothers will race an LCR F11 outfit powered by a 600cc Honda engine, previously owned and raced to the double victory in the 2008 TT by Nick Crowe who also won the British F11 championship with the outfit last year.



The Birchall Brothers have raced the new F11 bike in the British Championship over the past few weeks and are currently lying second in the rider standings, a remarkable achievement after just three rounds of the series.



Speaking on the reasons for contesting the Isle of Man TT races, Ben Birchall said: "From as far back as I can remember, the Isle of Man TT fortnight was our family holiday every year and I have always had this longing to race the 37.73-mile mountain circuit.



"But I have never been in a position to afford to run two bikes and so have concentrated all my efforts into the F1 World Sidecar championship. This year however, everything has come together for us and with some invaluable help from our sponsors our dream is about to become a reality.



"The Isle of Man Tourist Board, especially Paul Phillips and his team have been fantastic. They have guided us on ways to tackle the course and which DVDs to watch in order to learn the racing lines etc. We have been over to the island as often as we could to get some first hand track knowledge but of course the roads are open and we have two way traffic to contend with so its not the same as actually racing. We won't get that experience until the start of practice week on Saturday."



Asked what his hopes are for the TT Ben said: "We just want to finish both races without mishap and wherever we finish is fine by us. It would be easy to say we are aiming for a top result but it's our first time and the mountain course requires a lot of respect. It's all very well charging off to try and get a win but it's a long way around (37.73 miles) and a lot can go wrong. I have the utmost respect for people like Nick Crowe and Dave Molyneux who know the course like the back of their hand but we have a long way to go before we start to challenge the likes of those two!! We will give it our best shot and see where we end up."



The Isle of Man TT begins with a week of practice from Saturday May 30 through to Friday, June 5. The first three-lap sidecar race is set for Saturday, June 6 at 3pm with race two scheduled for Wednesday, June 10 at 1.15pm.


Pic credit Stephen Davison at pacemaker press.