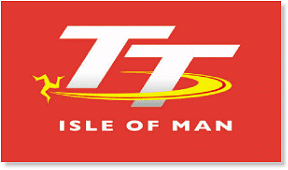 In total 186 machines went through scrutineering – 60 Superbikes, 56 Supersport, 22 Superstock, 1 Senior and 47 Sidecars.

Conditions were perfect tonight with competitors greeted by blue skies and warm sun although it soon became apparent that there was one major problem – flies! The warmth certainly brought out the majority of the Island's bug population and most riders were without tear-offs half way round their first lap.

Rider Liaison Officers Richard Quayle and Johnny Barton were accompanied by Nigel Beattie, Paul Duckett and Steve Linsdell as they took the newcomers around, Ben Wylie, James Ford, Adrian Clark and Steve Mercer all well to the fore. Americans Scott Jensen, James Vanderhaar and CR Gittere were also out on the course for the first time along with Marc Fissette, Luis Carreira and Japanese rider Yoshinari Matsushita.

Ten minutes later, the leading solo riders got their first taste of the action and it was Gary Johnson who led the field away on the Robinson Concrete Honda Superbike machine with Ian Hutchinson setting off shortly after, the Bingley rider opting to take out his Padgetts Supersport machine.

The Relentless by TAS Suzuki's of Bruce Anstey and Cameron Donald left the line together with Michael Dunlop (600 Street Sweep Yamaha) and Keith Amor (Wilson Craig Honda Superstock) following behind. Steve Plater, fresh from qualifying 5th at the Thruxton British Supersport round, arrived on the Island just before 6pm and went out on his Superbike. Team-mate John McGuinness was also out on his Superbike and left the line approximately 15 riders in.

All of the newcomers successfully completed their first lap with many of them stating how enjoyable it was but how they wanted to get back out on their own and not follow at a controlled speed!

As stated, riders were reporting excellent conditions apart from the plague of flies whilst a number also commented on a dusty surface in places. As the session wore on, riders were also met with yellow flags due to the low sun, Guy Martin commenting that it was particularly bad on the way out of Union Mills, through Appledene and through the Ginger Hall to Ramsey section.

The session was untimed although John McGuinness, who only managed two laps before suffering an oil leak, got round at approximately 125mph whilst Ian Hutchinson, Gary Johnson and Guy Martin were unofficially clocked around the 122-123mph bracket. Michael Dunlop created a lot of excitement and attention when he went out on the Norton but it was an inauspicious debut as he only got as far as the Glen Helen section, 9 miles in to the lap.

At 8.25pm, it was the turn of the F2 sidecars and they were led away by Nick Crowe/Mark Cox with Dave Molyneux/Dan Sayle and Tim Reeves/Patrick Farrance not too far behind. However, Crowe was soon reported to have stopped and pulled off the course whilst Molyneux and Reeves also stopped at Parliament Square and Ramsey Hairpin respectively to wash their visors due to the ever worsening flies.

Amongst the speed trap figures recorded tonight, taken along the Sulby Straight, were Steve Plater at 183.9mph, Conor Cummins at 182.9mph and Adrian Archibald at 181.4mph. However, it was the Suzuki of Cameron Donald that was quickest at 185.4mph. In the sidecars, Dave Molyneux was timed at 141.9mph.

Scott Jensen was taken for a check up after coming off at Union Mills and Steve McDonald came off at Braddan and was taken for a check up and discharged.

Qualifying begins on Monday with added interest expected this year with the award of watches by the official timing partner Graham London. Limited edition TT watches with a retail value of £6500 will be awarded to the fastest sidecar and solo qualifiers.