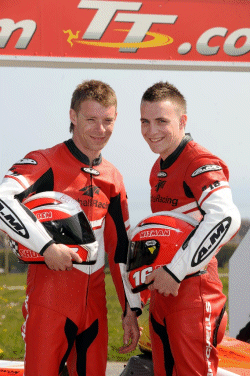 It turned out to be an excellent evening for the Mansfield brothers who took their LCR Honda 600 outfit through three laps of the 37.73-mile mountain road course posting a quicker lap time each time they passed the grandstand.

They began from a standing start and put in a time of 20m 55.99s – 108.144mph which bettered their times set earlier in the week.

The next flying lap saw them go even faster as they gained in confidence recoding a lap time of 20m 35.70s – 109.92mph and on the third lap they broke through the 100mph barrier to record a time of 20m 27.13mph – 110.688mph - the best ever qualifying lap by a newcomer, bettering the time of 110.362mph set by Reeves and Farrance last year.

"I have been trying to do three laps all week but it's just not happened for one reason or another – until tonight. It is all credit to the team, Steve Abbott, Jamie Biggs; they have worked so hard all the time trying everything. Also a big thank you to Dave Holden for supplying the bike and Mitchells of Mansfield and all my sponsors and everyone who has helped me get here this week.

Yesterday we just threw everything we could think of into it and today we are just thrilled to bits to get this flying lap. Maybe we will just make a few slight suspension changes before the first race but its all coming together nicely now," said a delighted Ben Birchall.

Asked if the strong wind bothered him over the mountain he replied: "At first I didn't realise what it was, just maybe the bike slowing down and then I realised there was a bit of wind but it didn't really bother me!"

Tom was asked how he felt about jumping from 106mph through to 110mph and he said: "I don't really know, my eyes are still rolling! But it was fantastic, safe and just a really good fast ride. It's all credit to Ben really as he was driving. We are getting the hang of the course now and really enjoying it, more so every time we go out and also learning more on each lap.

With the fast lap from Friday evening the Birchall brothers are elevated up to eighth in the overall practice results, a remarkable achievement on their first attempt at the TT course. But they will have to wait a couple more days to put their new found talents into action as the deteriorating weather conditions have caused the race officials to postpone all racing until Monday.