STEVE PLATER - TT PRACTICE FRIDAY
Author: Helen Pask
Posted on: Saturday, Jun 06 2009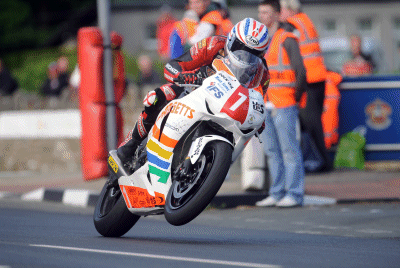 He had already proved to be the fastest man on the track in the Superstock class as he was quickest on his first lap, posting a time of 18m 01.10s – 125.638mph from a standing start. He bettered that on his flying lap with the Padgett's Racing Honda Fireblade before switching to the HM Plant Honda Supersport machine where he completed two laps to end up in second place in that class on the night.

The second of the two Supersport laps was spent chasing down William Dunlop who was ahead on time by a small margin. On the run across the Mountain Mile Plater edged nearer and was only a fraction slower at the Bungalow and by the time they reached Cronk ny Mona he was ahead on time.

But a slow run from there to the finish line saw Dunlop regain the lead and Plater finished the session just over two seconds adrift in second place.

"I wasn't aware that I was that close," said Plater. "But it's no big deal because after all it is only practice. It's the race that counts and if I am that close to the win in the race then I will be well happy."

With stormy weather approaching the Isle of Man it has already been announced that Saturday's racing has been postponed until Monday with the six lap Superbike TT hopefully starting around 11am.

The races originally scheduled for Monday will now take place on Tuesday – weather permitting.

The overall practice results for Steve are as flows:

TT Superbike and also the Senior TT

6th – Steve Plater 17.33.08 – 128.982 set on Thursday


Supersport Junior TT

6th – Steve Plater 18.20.74 – set on Thursday


TT Superstock

1st – Steve Plater 17.50.03 – 126.936



Note- these are not starting places – Steve will set off in seventh place in each class.