STEVE PLATER SECURES A FINE SECOND PLACE AT TT
Author: Helen Pask
Posted on: Monday, Jun 08 2009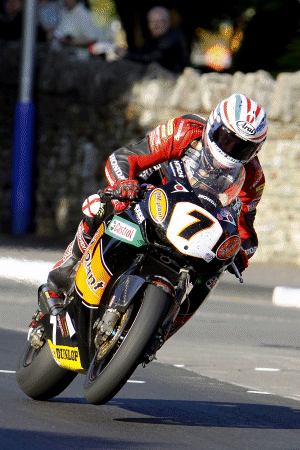 Steve had been hanging around over the weekend as the race, which should have got underway on Saturday was postponed because of bad weather.

He said: "It's been a long wait since the end of Friday practice really. I did go for a ride around the course late last night to check out a few things with the corners and now I just want to get on with it and get going in the race. The rain will have cleaned up all the rubber up so we won't have the grip we had last week but it's the same for everyone so it's not a problem. Not that it's going to be slippery but just not quite so much grip. It will be nice to get my first race under my belt and out of the way."

Steve began the race from seventh place-the riders set off at 10 second intervals-and by the time he reached the first check point at Glen Helen he was already up into fifth position and at the end of the first 37.73-mile lap he was up to fourth.

On his flying lap – lap two - Steve scorched around the course and set his fastest ever lap with a speed of 130.122mh and moved up to third place before pulling into the pits for his first re-fuelling stop.

His pit crew got him back out there very quickly while McGuinness was held up and as they set off for lap three, Plater had a slim five second lead on the run to Glen Helen.




But McGuinness upped his pace and regained the lead which he held throughout the remainder of the six laps.

Plater was not far behind and at one stage got within seven seconds of his teammate. The commentators were amazed by his riding skills and commented on his smooth negotiation of the Ramsey Hairpin each time around.

Lap three saw Plater move into second place to pull out a substantial gap on fellow Lincolnshire rider Guy Martin and the three continued in this formation to the chequered flag at the end of six gruelling laps.

"I didn't feel I was pushing too hard," said Steve after the race. "To be honest I just wanted to safeguard my second place and try to get HM Plant Honda the one-two. It was a bit windy in places and catching me out at times and also not so much grip this morning. But the track is going to get better as long as the rain stays away. 1m 30.122s lap – yeah that will do for now" he quipped.

At the press conference Steve said: "I pretty much had a speed in my head that I wanted to set and it was really just to improve my lap times from last year. I am happy with 130mph but as the week goes on the speeds are going to get faster if it stays dry. I was happy with the way I rode. I was a little bit slow on the first lap but I still can't get my head around getting up in the morning and getting out of the motor home and going like a lunatic up the main roads!!"

Plater is in action again tomorrow when the four lap Supersport race is scheduled to start at 12.15pm. Following a brief rest Plater will be back in the saddle, this time on the Padgett's Honda Superstock bike which he will take round for four laps at 6.30pm.


Pic credit Glynne Lewis.