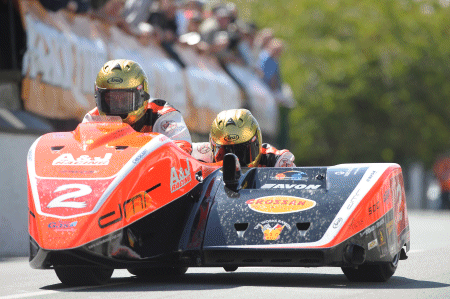 It was Crowe and Cox on their HM Plant Honda who blasted in to an early lead although they were just 1.39 seconds ahead of Molyneux and Sayle at Glen Helen first time around. John Holden/Andy Winkle were just 0.23s down in third with Dongworth in fourth just ahead of Klaus Klaffenbock/Darren Hope.

Crowe pressed on for the remainder of the lap and with a speed of 115.419mph he was 3.91 seconds clear of his fellow Manxman Molyneux. Holden was still in third but his advantage over Dongworth was only 3.48 seconds whilst Neary and Tim Reeves/Patrick Farrance were up to fifth and sixth.

There was drama early on the second lap though when both Crowe and Holden were missing at Glen Helen resulting in Molyneux now holding a comfortable lead over Dongworth. News eventually came through that Crowe and Cox had stopped at Greeba Bridge whilst Holden and Winkle had only managed to get a few miles further, the Suzuki pairing out at the Black Dub.

When the race had settled down, Molyneux's lead had shot up to 28 seconds whilst Dongworth was equally secure in second. However, the dice for third was anyone's with Neary, Reeves and Klaffenbock locked in battle although the latter was soon out at the Gooseneck after banging his hand at Tower Bends. The Birchall brothers were also retirements, the newcomers going out on the final lap whilst holding on to a superb 6th place.

At the head of the field, Molyneux and Sayle were extending their lead all the time and with the fastest lap of the race, 116.010mph, they pressed further ahead. Controlling the race on the final lap, the pairing swept home with Molyneux taking his 14th victory, 20 years after his first, with Sayle taking his fourth.

Behind, Dongworth was finally rewarded for his many years of effort with second place and a personal best lap of 114.055mph. For passenger Partridge it was also a sweet moment having almost quite the event during practice week. Meanwhile, the battle for third went the way of Neary and Bond with Reeves and Farrance just 3 seconds adrift, the latter suffering from a lack of power.

The top ten was completed by Conrad Harrison/Kerry Williams, Steven Coombes/Paul Knapton, Roy Hanks/Dave Wells, Neil Kelly/Jason O'Connor, Tony Baker/Fiona Baker-Milligan and Andy Laidlow/James Neave.