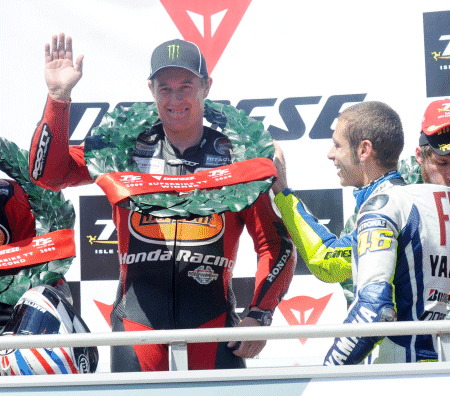 John McGuinness won his 15th TT today when he took victory in a record-breaking Dainese Superbike race, also claiming the outright lap record en route. The HM Plant Honda rider saw off the challenges of both Conor Cummins and Steve Plater to come home 18 seconds clear of team-mate Plater with Guy Martin completing a Honda 1-2-3 in third. McGuinness was watched by Dainese ambassador Valentino Rossi who later completed a lap of his own.

After the cancellation of racing over the weekend, Monday saw dry, sunny conditions all around the course although a strong breeze would keep the riders on their toes in places. At the first checkpoint of Glen Helen on the first lap, McGuinness was leading by just under two seconds from the flying Cummins who was setting a great pace on his McAdoo Racing Kawasaki. Ian Hutchinson (Padgetts Honda) occupied third with Gary Johnson and Steve Plater close behind. However, Bruce Anstey was missing and there was huge disappointment when news came through that he'd retired at Ballacraine.

McGuinness was putting in one of his customary fast first laps and he was continually stretching his advantage, completing the first lap with a new lap record and over five seconds clear of Cummins. Martin had moved up to third with Plater, Johnson and Hutchinson not far behind.

John was really flying on the second lap and his advantage was up to 8 seconds at Ramsey, Martin now having overhauled Cummins, the Manxman struggling with a rear chain that was jumping the sprocket. McGuinness' pace could be seen when he came in for his first pit stop and his second lap of 130.442mph broke his own outright lap record set in 2007. Plater also broke the 130mph barrier to sit right on Martin's tail but he took second place on the third lap, Martin not quite getting the Hydrex Honda to turn as he would have liked.

Cummins had an extremely slow pit stop and dropped all the way back to sixth, cruel luck for the 23-year and he was denied even a finish when the engine expired at the Verandah on the final lap. After the pit stops it was Johnson who was now up to fourth although Hutchinson was closing in rapidly.

At the front though, McGuinness was now coming under pressure from Plater and saw his lead cut from 11 to 8 seconds at two thirds race distance. The Morecambe rider dug deep though and with an extra special effort on the fifth lap, pulled away once more and he was able to control the race more comfortably in the closing stages and crossed the line over 18.09 seconds clear. Plater put in a great ride to take second, his first Superbike TT podium whilst Martin was safe in third, going some way to make up for the disappointment of last year's retirement.

With Honda celebrating their 50th anniversary of racing it proved to be a memorable day with them filling the first five places, Hutchinson and Johnson taking fourth and fifth, the former overhauling the latter with a strong final lap of 129.428mph, his personal best.

The victory by McGuinness meant that he moved ahead of Mike Hailwood's total of 14 wins, and is now second outright only to the late, great Joey Dunlop on the all time winners' list.

Adrian Archibald came through from a first lap 14th to a strong 6th, also consolidating his tag as the fastest ever Irishman around the Mountain Course with a final lap of 128.883mph. Ian Lougher, competing in his 100th TT, took seventh ahead of leading privateers Carl Rennie, Dan Stewart and John Burrows.

As well as Cummins, Michael Rutter also retired when he was back flagged at Ramsey with a broken gear lever whilst Keith Amor was another high profile retirement.