STEVE PLATER FOURTH IN SUPERSPORT TT
Author: Helen Pask
Posted on: Tuesday, Jun 09 2009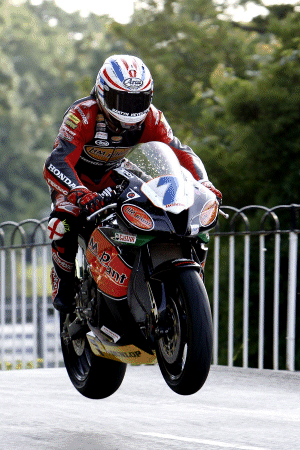 Plater from Woodhall Spa in Lincolnshire completed last week's practice as sixth fastest rider in the Supersport class with a lap of 123.397mph and lined up in seventh place for the start of today's four lap event. The riders set off at 10 second intervals to charge down Bray Hill on their way around the 37.73-mile course that takes in some very fast straights linking the villages around the island.

Just prior to the start of the race Steve said: "It is going to be a close race today. I will just try and settle into it earlier than I did in the Superbike race yesterday and enjoy the first lap a little bit more. I just want to go around on my own if possible and do my own thing."

But as Steve set off on his first lap he wasn't as quick as anticipated and was down in 10th place at the first check point of Glen Helen. But he settled into his race and by the time he began the second lap he was up to seventh position.

A quick stop for refuelling at the end of lap two saw him edge ahead on time to fifth position and he began to power the HM Plant Honda Supersport machine faster and faster, reeling in Keith Amor who was well ahead on the road but had only a few seconds advantage over Plater on time.

As they entered the final lap Plater was just six seconds away from fourth place and then promoted up to that position when race leader Bruce Anstey ran out of fuel and coasted to a halt just a few miles from the finish.

Steve continued on his way to the chequered flag to seal fourth place and although not the result he wanted he was encouraged by the fact that he posted his fastest lap of the week in the class with a time of 125.81mph on the final lap.

"It's not the result I wanted," said Steve. "It was disappointing for me and HM Plant Honda to be so near to the podium but not make it up there.

"I followed Guy Martin for a long time during the race and, still being a relative newcomer, I was able to learn something from him. (Guy finished the race in 2nd place.)

I tried a few different things on the final lap, which was my best lap, so hopefully that will set me in good stead for the second Supersport race later this week."

Steve sees further race action this evening when he takes part in the four lap Superstock race on the Padgett's Honda Fireblade. He set the fastest time in practice so is hopeful of a good result.