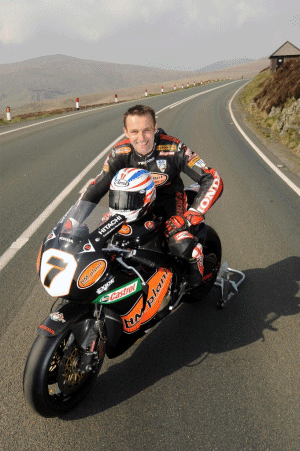 The world famous race was delayed by half an hour because of some light rain around the course but it soon dried out and the feature race of the week was started by Murray Walker OBE in bright sunshine and perfect conditions.

When the riders arrived at the first check point of Glen Helen Plater slotted straight into second place behind his HM Plant Honda teammate John McGuinness and the pair steadily pulled clear of the rest of the field.

But events took a dramatic change on lap four when McGuinness retired at Crookshanks with a broken chain. That left Plater with a clear lead over Manxman Conor Cummins and although Cummins did pull back a couple of seconds on the penultimate lap, Plater upped the anti and made sure of the win, extending his advantage to 19.54 seconds at the chequered flag.

As well as the race win, Plater posted his fastest lap of the two week festival with a flying lap of 130.490mph, bettering the record from last year set by McGuinness – although before he retired from the race McGuinness recorded a new lap record of 1m 31.578s.

Steve also picked up the inaugural Joey Dunlop Trophy for the rider with the best overall results of the week with 84 points.

An emotional Steve Plater said: "It will perhaps sink in later tonight just exactly what I have achieved; its stuff dreams are made of. It's unfortunate that John went out but that's what happens in racing. He would have been there at the end for sure, but I was just trying my hardest to do a really good out lap as Neil Tuxworth has been whinging and whining at me all week for being an old lady on the first lap! That's what I was concentrating on and then just seeing how the result went from there.

"I was watching my pit boards as I knew Connor was only about 10 seconds away from me, my dad was doing the boards at Ramsey so he will be desperate to get back now, bless him. It seemed like 40 miles from the Bungalow down to the finish on that last lap, it was endless.

"I won the Junior TT last year because the bike that actually took the chequered flag first was illegal and therefore disqualified, which was unfortunate for Bruce Anstey as he was a very strong rider but I did take over five seconds out of him on the last lap so I am happy with that win and that's that.

"This achievement today will finally sink in next week as I have to turn my attention back to short circuits and the British Supersport championship. I just need a bit of Plater time on my own to take it all in. But I said to the guys at HM Plant Honda, as soon as the chequered flag falls here I will be thinking about winning at Snetterton next Sunday."

This fantastic win brings Plater's tally of results to five this week, a win in the Senior, a second place in the Superbike and fourth in the Superstock and the two Supersport races – a remarkable achievement for the Woodhall Spa ace in only his third year of competing at the TT.


pic shows Plater on the Mountain - credit Stephen Davison.