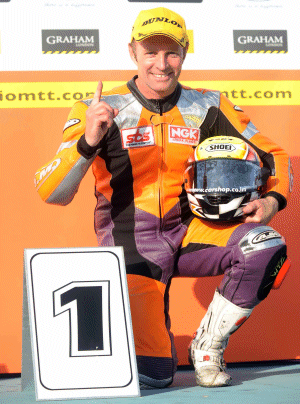 Low cloud and mist shrouded the Castletown venue for much of practice and qualifying and it was only towards the end of the afternoon that the sun broke through. Conditions were dry all around the 4.25-mile venue though.

Lightweight 250cc

There was drama on the sighting lap of the first 250cc race when William Dunlop returned to the pits due to a water leak and that left the path slightly clearer for Lougher and Chris Palmer. They immediately took first and second on the opening lap before Palmer hit the front on the second as Michael Dunlop held on to third from Andrew Neill and Barry Davidson. By lap 4 Lougher was back in the lead and he opened up a small gap over Palmer with Dunlop secure in third whilst Neill and Davidson were practically tied together further back.

On the sixth lap, Palmer clawed back the deficit and went to the front once more but no sooner had he taken the lead, then he was out with a seized engine at Ballakeighan. Lougher was able to coast home with Dunlop similarly safe in second but the battle for third went all the way with Davidson just nicking it from Neill on the line. Phil Harvey overtook Nigel Moore on the final lap for fifth with Paul Shoesmith, Paul Owen, German visitor Henrik Voit and Tom Snow completing the top ten.


A broken crank kept Palmer out of the 2nd leg but William Dunlop was back on pole position and he grabbed the early initiative, promptly pulling away from Lougher, brother Michael, Davidson and Neill. Williamís lead was up to 3 and half seconds by lap 3 but a lap later he was out at Cross Four Ways with a suspected broken radiator.

Lougher had a similar margin over Michael and he rode the perfect race to claim yet another win. Davidson held on for his second third place with Neill in fourth whilst a good battle for fifth went the way of Owen with Harvey and Moore just slightly behind. Voit, Kevin Strowger and Mike Hose filled out the top ten.



Ultra-Lightweight 125cc

The battle for the 125cc title was again fought out between Lougher and Palmer. The first 8-lap race saw the arch rivals go head to head once more and it was Palmer who led the way, Lougher settling behind in second with William Dunlop holding on to third before Roy Richardson took over. There was nothing between Palmer and Lougher though until the penultimate lap when Palmer was again forced out leaving the Welshman well clear.

He held on to win comfortably by almost 15 seconds with Richardson holding on to second ahead of Dunlop. James Ford, third last year, took fourth and he was followed home by Nigel Moore, Jon Vincent, Peter Wakefield and Tom Snow but there was disappointment for Daniel Sayle who went out on the fifth lap on his KTM.

Palmer managed to get his Honda repaired in time for race 2 and he made the perfect start, completing the first lap over two seconds clear. He continued to pull away from the rest of the field and by half race distance his lead was up to nine seconds. Lougher knew what was required of him though and he concentrated on holding on to second and keeping teammate Richardson behind him. Meanwhile, Ford was an early retirement with Moore going out on lap 6.

At the head of the pack though, Palmer had no such problems and he held on for the race win but Lougher came home second, just ahead of Richardson, to claim another TT victory. Dunlop had another lonely ride into fourth although his task was made easier when a rapidly closing Sayle went out on the final lap. Phil Harvey, Vincent, Wakefield, Snow, Chris McGahan and Andrew Neill rounded out the top ten.

In the 600cc/1000cc Support race, John Burrows got the better of Mark Parrett in the 1000cc category, after a race long duel, with Stephen Oates and Paul Dobbs in third and fourth. The 600cc class went the way of Roy Richardson ahead of Mark Buckley and Si Fulton.