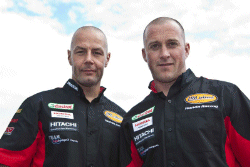 It is hoped that this will end speculation about the pair's condition, as well as provide re-assurance to concerned friends, racing colleagues and kind well-wishers.

Manx-man Nick (38) from Jurby, and Mark (39) from Rochester in Kent, were leading the race when the incident occurred at Ballacob on the approach to Ballaugh (17 mile marker), on lap one of the three lap race. Both Mark and Nick were ejected from the sidecar following a collision with what is believed to be a hare, sustaining serious injuries, and were airlifted to Noble's Hospital where they received full examinations and the necessary immediate treatment.

The Sidecar race - the second of two Sidecar races of the 2009 Isle of Man TT - was abandoned following the incident, with the following Superbike practice session scheduled for that evening also cancelled. Neither were re-scheduled.

Danny and Gaynor Crowe, Nick's wife and sister, confirm that Nick's limb injuries are very serious and he remains in intensive care, although was transferred to a UK hospital last Friday where he will receive further treatment and operations over the coming weeks. Whilst Nick is in a serious condition, the family is encouraged by Nick's awareness when he is awake and would like to express how much everyone's support and well-wishes are helping him.

Mark's fiancée, Amanda, confirms that Mark's condition is stable, although his lower limb injuries are serious and he will require further operations on his left ankle and right hip. Mark has spent this past week at Noble's Hospital and will be transferred to a UK hospital next week. The family is very grateful for all of the well-wishes received, which have provided great encouragement for them and Mark.

Both families would like to express their deepest thanks and appreciation to the intensive care units and all nursing staff, surgeons, emergency services, course marshals and public spectators who helped at the scene of the accident, as well as the numerous people who have offered overwhelming help, support and well-wishes over the last week.

However, they ask for their privacy to please be respected, to provide them the time and space to adapt to the situation and, focus on supporting Nick and Mark with their recovery.