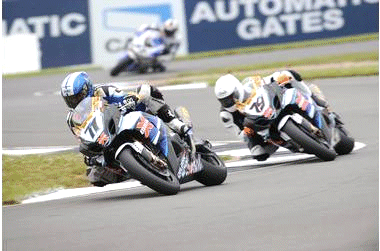 The Japanese rider suffered with grip problems in qualifying and Superpole and although he managed to get into Superpole 1, he was unable to progress any further.

Meanwhile, team mate Blake Young continued his steep learning curve with the Suzuki Alstare Brux GSX-R1000 K9 and finished the day with the 28th fastest lap. But every time the young American goes out, he understands the bike better; even though it is very different to the Suzuki he campaigns in the AMA Superbike series.

Ben Spies (Yamaha) was again unstoppable in Superpole: He recorded the first-ever sub-1:30 lap on his way to his eighth win of the season. Max Biaggi (Aprilia) was second with Shane Byrne (Ducati) third and Shinya Nakano (Aprilia) fourth.

Yukio Kagayama - 18th, 1:31.215:

"Although we had improved the bike a little from the morning to the afternoon, it was only a small step forward and not enough for me. Today, my biggest problem was no grip. Even when I tried a different tyre, with a different construction, the feeling was not good and it felt unsafe. So we went back to a softer tyre but there was no improvement. In the end, we ran out of time and when I did try a qualifying tyre I had the same problem, even though normally the grip level is better. There was also a bit of a problem with the traction control so we will have to sit down with the data, work out what was happening today; and then see what we can do to improve tomorrow. I am so far down the grid that it will be hard to see the lights, but I never give up and will fight for every place I can."


Blake Young - 28th, 1:32.735:

"Well that was another tough day, but I am enjoying the whole experience and getting the most out of it, thanks to the team. They are helping me a lot and there is so much to understand about this bike, the tyres and the track. I want to go faster and I would like to go faster. Every time I go out, I see the lines other riders are taking and I want to be able to lap like them. The team changed the bike for me today and the alterations they made suited me more. I just wish I could have more time and more laps, but the good news is that there is no pressure on me from the team, so I can go out and enjoy the races tomorrow."

Final WSB qualifying: 1 Spies (USA-Yamaha) 1:29.846, 2 Biaggi (ITA-Aprilia) 1:30.080, 3 Byrne (GBR-Ducati) 1:30.535, 4 Nakano (JPN-Aprilia) 1:30.671, 5 Fabrizio (ITA-Ducati) 1:30.734, 6 Haga (JPN-Ducati) 1:31.023. 18 Yukio Kagayama (Alstare Brux Suzuki) 1:31.215. 28 Blake Young (Alstare Brux Suzuki) 1:32.735.


SUPERSTOCK 1000 EUROPEAN CUP:

Team Suzuki Alstare Brux rider Claudio Corti suffered a tyre choice mistake and will start from the sixth row of the grid in tomorrow's fifth round of the Superstock 1000 FIM Cup race at Donington Park.

Conditions had been fine in the untimed session, but rain came down in the afternoon timed session and he was one of 16 riders caught out in the wet.

Claudio Corti - 22nd, 1:48.839:

"I think it was my fault because I should have changed a tyre at the right time and I did not. Now it means I will have a lot of work to do from the sixth row of the grid. We made some changes to the bike this afternoon but the rain came down so we are not sure if the changes made the bike better. It will be tough race for sure, but my aim is to make a very good start and see what happens. I am hoping for dry conditions because I think that will give me a better chance of getting some kind of good result."

Final Superstock qualifying: 1 Simeon (B-Ducati) 1:38.120, 2 Baz (F-Yamaha) 1:39.723, 3 Barrier (F-Yamaha) 1:39.860, 4 Fores (E-Kawasaki) 1:40.690, 5 Lussiana (F-Yamaha) 1:401.248, 6 Giugliano (I-MV) 1:41.280. 22 Claudio Corti (I-Suzuki Alstare Brux) 1:48.839.