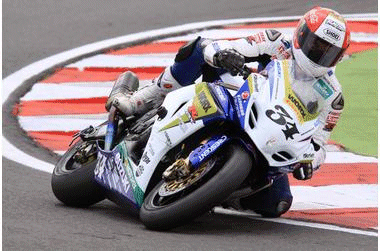 The battle is on to make the results that eluded them last outing at Snetterton and that the team feel are due: After putting in a lot of work on set-up at Snetterton, Rutter went on to make second-fastest time in practice. But then in qualifying, a sudden rain squall killed all chance of Rutter making the front row. A crash and a technical problem in the races meant the weekend wasn't the success that was anticipated.






Michael Rutter:

"We made great progress with the set-up at Snetterton, although as that wasn't reflected in the results few would know. But coming to Knockhill it's an all-new game. I love Knockhill and I showed that last year by standing on the podium. You see, this place is short and tight yet because of the start straight and the sweeping run into the hairpin it still has a very fast lap speed, around 95mph. So you need a bike that you can confidently turn very, very quickly but also has a super-strong motor. The GSX-R1000 has all of this. So, no question, I'm looking to qualify front row and make the podium this weekend."

Jack Valentine - Team Manager:

"Michael's certainly fired up this week! I said after Snetterton that what happened there wasn't his fault, but he clearly feels he has a point to prove. He knows he has the tackle for the job and he's clearly got the hunger to stick it in there at the sharp end. Every weekend is 'make or break' for Michael, but I can tell he feels this weekend is special.

"We shouldn't forget just how strong this Suzuki is either. Sylvain proved that at the season beginning. And for Michael, at Snetterton for that second race, we gave him the front-end feel he was looking for. So now he has the set-up he feels is right for him. And he's got this coming to a circuit that's clearly right for him too. We're not out to talk up a fight, but we have to be ready for what's going to be a very keen battle this weekend."