RUTTER ON KNOCKHILL FRONT ROW
Author: Suzuki Press Release
Posted on: Saturday, Jul 04 2009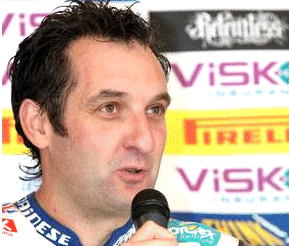 There was certainly pressure on Rutter to perform after the setbacks of Snetterton, yet it was a calm assured performance from Rutter that saw him secure a solid fourth-fastest lap time in the final qualifier to claim his second front row start from three meetings.

Michael Rutter:

"It's been a hectic couple of days on track and certainly there's been a lot of drama and loads of red flags today. That's because Knockhill is a very tight track that makes for very tight lap times and it's like a pressure cooker. After free practice there was just 0.2-seconds between me - in ninth - and the fastest...




"For the team though it's been a very positive weekend; we worked on set-up in a definite direction and that's worked; the suspension is working really well here; everything feels good as race settings go. In qualifying it was important to stay fast from beginning to end and we did that. The same will go for tomorrow. So there's only the one strategy: To make the best start and get out in front and stay there."

Jack Valentine - Team Manager:

"This was definitely a good day at the office, today. There's really nothing in it so far as the times go. The bike's good too; we'll make another small adjustment to the front suspension for tomorrow's warm-up and maybe we'll find a bit more still, but as it is, Michael's very happy with everything.

"Michael's definitely got the hang of the starts with the GSX-R1000 so we're looking forward to typical lightning Rutter starts tomorrow and to seeing him out there at the front of the pack. The preparation is all done so now it's just a case of Michael doing the business in the races."

Pole Result:

1. Josh Brookes (HM Plant Honda) 48.759s
2. Leon Camier (Airwaves Yamaha) +0.297s
3. Stuart Easton (Hydrex Honda) +0.351s
4. Michael Rutter (Worx Crescent Suzuki) +0.374s
5. Karl Harris (Hydrex Honda) +0.424s
6. James Ellison (Airwaves Yamaha) +0.589s
7. Chris Walker (Motorpoint/Henderson Yamaha) +0.624s
8. Graeme Gowland (Motorpoint/Henderson Yamaha) +0.731s
9. Ian Lowry (Relentless Suzuki by TAS) +1.645s
10. Glen Richards (HM Plant Honda).