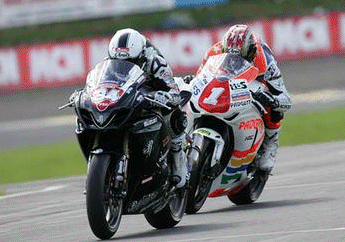 The Carrickfergus rider picked himself up after a high-speed qualifying crash on Saturday to increase his championship lead to 48 points.

In the British Superbike races, Ian Lowry had a day of mixed fortunes, taking sixth place in race one after a race-long battle with Simon Andrews and James Ellison, but a technical problem forced the 22-year-old to retire in race two after completing only 7 laps. Atsu Watanabe improved on his 2008 results at Knockhill taking 14th and 15th in the two BSB races.

Alastair Seeley:

"We set a plan today to get to the front early and lead throughout. Brogan set a blistering pace in the opening laps of race two but I hung in there, and when he tired in the closing stages I got to the front and pulled the pin. The 2009 GSX-R1000 had more steam up through the start and finish, so I just put my head down and got on with it. It's pleasing to win at Knockhill and more pleasing to get another couple of wins for Suzuki, Relentless and all our sponsors."

Ian Lowry:

"I'm a bit disappointed as I got robbed in race one right at the end for fourth place; then in race two we had to retire with a mechanical problem. We had made some radical chassis changes for race two, which I was looking forward to trying-out over a full race distance on my GSX-R1000 Superbike. The boys did a great job with the bike after working late into the night to get it ready for me - so a big thanks to everyone. It's now time to knuckle down and finish the season with some strong results."

Philip Neill - Team Principal:

"We are running out of superlatives for Alastair Seeley. He showed a lot of character this weekend after that big crash on Saturday. He carried a slight injury into the races but didn't complain or make any excuses, which is a rare trait these days with riders. There's been a lot of talk about putting Alastair on a Superbike but we aren't getting carried away. He has a job to do in the Superstock class and at the minute it's going to plan on the 2009 GSX-R1000.

"Ian had another confident display on the Superbike, again after a big accident in qualifying when another bike took him out. The boys spent all night rebuilding the bike for Ian, so it was good to see him rewarding the team with his fighting spirit. He's now confident enough to start experimenting with different types of set-up, and that's what we aim to test in the coming weeks.

"Atsu is continuing to build his confidence on the British tracks and bettered his times at Knockhill. BJ Toal was a bit unfortunate having to ride this weekend with a shoulder injury."

Footnote: Alastair Seeley's 2009 GSX-R1000 was inspected after the second Superstock event by race officials. As expected, the Relentless Suzuki met all the legal requirements for the National Superstock 1000cc class.