BIRCHALL BROTHERS ON PODIUM IN SPAIN
Author: Helen Pask
Posted on: Wednesday, Jul 08 2009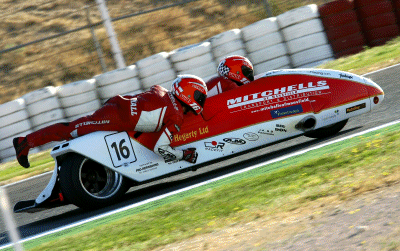 Throughout the free practice period Ben and Tom were up at the front of the pack and took provisional pole position with a flying lap of 1m 35.583s – just a tenth of a second away from the existing lap record that was set by Steve Abbott and Jamie Biggs as long ago as 1999.

Qualifying saw the Mitchells of Mansfield sponsored pair running in second place for most of the session and this time they posted a fast lap time of 1m 34.633s which bettered the lap record by over a second. But the times were close and they ended up in third place just 2/10th of a second away from pole to start the 20-lap affair from a front row grid position.

Morning warm-up saw the brothers put in five scorching laps to record the fastest time of the session with a lap time of 1m 34.296s once again well under the existing lap record.

As the 20-lap race got underway the top three outfits pulled away from the pursuing pack with the Birchall boys in close formation with reigning world champion Pekka Paivarinta and his new passenger Adolf Hanni. They exchanged places throughout the 20 laps but were beaten over the finish line by a mere two tenths of a second by the flying Fins and had to be content with third place.

"We battled for the lead over the first 10 laps," said Ben Birchall. "It was a good, close race from start to finish but at the half way stage of the race we encountered a slight problem with the front tyre and decided to go for a safe third place sooner than push too hard with the tyre issue. We had a good old battle with Pekka and Adolf which was really enjoyable and they beat us across the line by the smallest of margins."

The third place means that Ben and Tom relinquish their joint lead with Paivarinta and drop back to second position on 61 points – just four championship points behind their rivals.

The next round is at Sachsenring in Germany where Ben and Tom will have two bites of the cherry with two races to contest. The races take place as a support to the MotoGP round at the circuit over the weekend of July 19 after which the brothers will return to the UK to ride the F11 machine in a non- championship race to be held at Donington Park on July 25th – again as a support race to MotoGP.