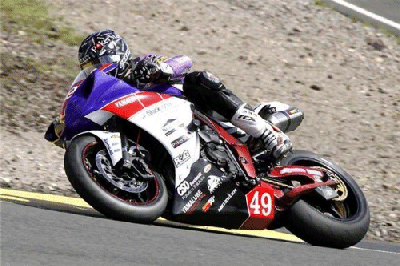 Tenth in free practice, Conor jumped up to an excellent fourth in first qualifying and went quicker still in the final qualifying session. A number of other riders went quicker also and so Conor lined up in seventh, his best qualifying performance of the season to date, just 0.502s off pole position. A sluggish start in the opening 20-lap race saw Conor slip back to ninth at the end of the first lap but he soon got into his stride and by half race distance he had climbed up to seventh having overhauled James Hillier and circuit specialist Bob Grant.




On the 13th lap he moved up to sixth, a position he maintained until the end of the race. In the second race later in the day, Conor got a much better start and slotted into sixth just behind Luke Quigley and fellow TT ace John McGuinness. In an extremely consistent race, Conor stayed in sixth throughout the race and, with the fifth fastest lap of the race, he was able to comfortably take his second sixth place of the day, just over five seconds adrift of the podium. The 20 points haul has also seen Conor jump up the Championship table to ninth place overall.

Talking later, Conor said:
"It's been a good weekend for me and the team and everything came together over the course of the three days. All the time and effort we put in at Donington is certainly paying dividends and we've made massive progress with the handling of the bike this weekend, which has allowed me to push that little bit harder. The team have been working so hard to give me what I need and I've got a good feel for what the bike's doing now so we're at a place where I think we can start pushing for podiums."

"I didn't get the best of starts in the first race and it took me a while to get past local rider Bob Grant who was riding well and had all the lines covered. Once I'd got by him the front group had pulled a gap but sixth was a good way to open the day. In the second race, I managed to get a lot better start and moved up to sixth straightaway although I made a couple of small errors and that was just enough for me to lose the tow. My lap times were on a par with the front guys though and we're right in the ball park now so to come away with two sixth places is a good return and just rewards for all the effort Ian and the team have been putting in. I'm really looking forward to the next round at Brands now so I've just got to say a big thank you to Team Blackhorse Yamaha and all my personal sponsors, especially Pokerstars and Solway Slate and Tile, as I wouldn't be able to do it if it wasn't for them."

Next up for the team is the Cock o' the North meeting at Oliver's Mount, Scarborough this weekend where circuit specialist Ian Lougher will be competing on the Team Blackhorse Yamaha Superstock R1 and Supersport R6. Ian will also be in action on the Barnes/Jackson Racing 125 and 250 machines.