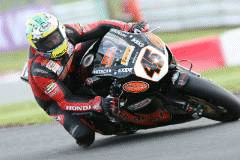 Glen suffered a clean break to his left femur last weekend in a heavy crash on entry into the Real Radio hairpin, during the sixth round of the BSB Championship at Knockhill. The Hinckley based rider underwent surgery on Sunday morning to pin his broken leg and is now up and about on crutches having daily physio.

With six rounds of the BSB Championship remaining, it is hoped that Glen will make a speedy recovery and be back out on track on his HM Plant Honda CBR1000RR Fireblade before the end of the season. Neither Brogie nor Steve will ride under Glen's #45 plate and will each be allocated with a new BSB number.

Glen commented, "It's been a difficult few days and I was feeling pretty down, but, the operation to pin my leg went really well and I've been topped up with a few pints of blood so I'm feeling better in myself and I can at least now get around on crutches. Knowing that Brogie and Steve will be on my bike for the next few rounds has actually cheered me up - firstly because they are two good friends of mine and great riders so I know they'll do a good job for the team, but also because it's a great opportunity for Brogie and also will be good for Steve, particularly at Cadwell, as that's his home circuit. I'm confident that with some good rest and physiotherapy I can make a full recovery and be back on my bike before the season's out. As long as I'm up to it I plan to be at Mallory, albeit watching from the pit lane!"

Liverpool's Brogie, who was not due to race at Mallory Park due to the British Superstock Championship not featuring at that one round of the BSB series, said, "It's not nice that I'm standing in for Glen due to him being injured, but, it's good knowing he's so happy about me being on his bike. Whilst I know there are no great expectations being placed on me, I'd never be happy giving any less than 100% so my plan is to go out there and do the best I can for Glen, myself and the team and hopefully be in the mix with the front runners. I'm chuffed to be given this opportunity by the HM Plant Honda team and it's ironically worked out well that there is no Superstock race at Mallory, as it means I can concentrate totally on getting on the pace in the Superbike class."

Steve said, "I'm pleased to be able to stand in for Glen and hopefully it will only need to be for those few rounds as it would be good to see him back on his bike before the end of the season. It'll make for busy Brands and Cadwell weekends for me, riding in both the Supersport and Superbike classes, but I've done it once before this year so I know what to expect and how best to get my head in gear for switching between the two, as they require completely different riding styles and focus. Cadwell is also my 'home' circuit so I'm looking forward to hopefully putting in some good results in both classes to make it a good show for both the team and the crowds."

With the 2009 BSB season now at its half way point, the HM Plant Honda team with riders Josh Brookes and Steve Plater, and with the hopeful return of Glen Richards, has six more outings to include Mallory Park (17-19 July), Brands Hatch (7-9 August), Cadwell Park (29-31 August), Croft (11-13 September) and Silverstone (25-27 September), with the season finale at Oulton Park (9-11 October).