Rizla Suzuki looking for a repeat performance
Author: Rizla Suzuki Press Release
Posted on: Friday, Apr 22 2005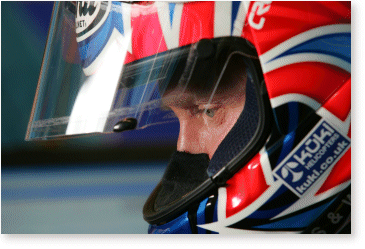 British Superbike Champion JR is buoyed by the news his broken right leg is mending quickly and is eager to race. Scott is keen to put into place the handling improvements he discovered for his GSX-R1000 at the previous round to score the results he so sorely desires.

Superbike racing starts at 1:15pm on Sunday, April 24th, at Mallory Park in Leicestershire. All of the action will be screened live on Sky Sports and will also feature in a highlights programme on Channel 4 one week later.

You can enter a free competition for 2xVIP passes to join Rizla Suzuki at Mallory Park this weekend. Rizla Suzuki has teamed up with Audi to offer this prize worth £600 that gives the winner access to all areas of the hospitality unit, gourmet lunch and a chance to meet riders JR and Scott. It also includes a breath-taking lap around the track in an awesome Audi RS6 pace car. To be in with a chance to win, simply visit www.audi.co.uk now and follow the Superbikes Prize Draw link.

JR:
"I finished with a first and second at Mallory Park last year and enjoyed myself. Gerard's is a corner from the old school of racing - just tip in and keep the throttle pinned at 120mph and when you exit 180 degrees later you can't help but smile.

"My leg is getting better every day and I will be at Mallory racing my heart out. It's one of the closer rounds to my home in Nottingham and I hope the fans turn out to give me support - the first race I win in '05 is going to be dedicated to them for believing in me."

Scott:
"We are very close to having my Rizla Suzuki GSX-R1000 handling just the way I want it to. At the last round it was nigh on perfect and if we can find that setting at Mallory Park I will have every chance of winning like I did last year.

"I am new to Rizla Suzuki and the GSX-R1000, so we are still matching the bike to my riding style and making progress with every outing. My team is fantastic and really supportive. I promise I will be sharing champagne with my crew very soon."