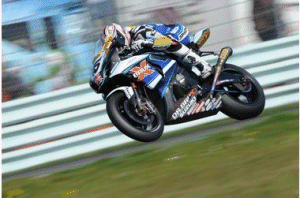 He was taken to hospital in Bologna and, after X-rays, was fitted with a cast to prevent any further damage. He stayed in the hospital overnight, but is scheduled to fly back to his local hospital in Germany for further investigation today.

Neukirchner's setback is a cruel blow to the whole team who have been looking forward to his return since Monza. Until his crash, he had enjoyed his time on the bike and, despite some understandable soreness in his leg, was happy to be back in the saddle again.

Team mate Yukio Kagayama struggled in the scorching conditions and although the team made numerous changes and adjustments to the bike, he was unable to push as hard as he would have liked and finished in a disappointing 18th place.

Jonathon Rea (Honda) posted the fastest time of the tests with a lap of 1:48.670. Second was Michel Fabrizio (Ducati) with Ben Spies (Yamaha) third.

Max Neukirchner:

"I am not sure why I crashed, but I have injured myself some more and so I must start the recovery process all over again. Yesterday was not so bad and I showed that I could ride the bike OK after some weeks away. I was looking forward to a second full day on the track, so it was a big pity that I fell. It seems that I have cracked or damaged some vertebra and so I must go back to my hospital in Germany and get everything checked out. Once that is done, my doctors will work out a programme for me and I will start treatment and rehabilitation. I have done this before, so I know I can do it again."


Yukio Kagayama - 18th, 1:50.518:

"On the positive side, the lap times are pretty close and shows that a split second can make the difference between a high position or a low one. Over these two days, we made many changes and adjustments and tried many different things. But, I am sorry to say that we were unable to get the bike to go any better. These two days have given us a lot to think about and now we must try and analyse all the data and make a step forward. We hoped to have made a step forward here, but it didn't happen. So now we must work some more and try again."

Overall results: 1 Rea (GBR-Honda) 1:48.670, 2 Fabrizio (ITA-Ducati) 1:48.847, 3 Spies (USA-Yamaha) 1:49.262, 4 Lanzi (ITA-Ducati) 1:49.309, 5 Sykes (GBR-Yamaha) 1:49.422, 6 Hopkins (USA-Honda) 1:49.443, 18 Yukio Kagayama (JPN-Suzuki Alstare Brux) 1:50.518, 21 Max Neukirchner (GER-Suzuki Alstare Brux) 1:51.077.