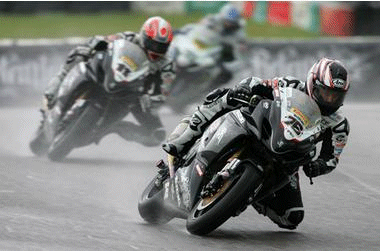 Lowry was awarded eighth place after a red flag incident in race one, but a tyre gamble in race two ended the Moira rider's chances of a points scoring finish after a torrential downpour. Like race one, the second outing was red flagged, this time after only 15 laps due to standing water on the circuit.

Atsu Watanabe had a disappointing day after a promising qualifying position, only taking points in race one for 14th when the race was stopped prematurely due an incident involving a number of other riders.

Ian Lowry:

"I don't want to make excuses but I wasn't feeling right on top of my game here at Mallory. Other teams had been here testing prior to this meeting, so we struggled to find the perfect set-up on my GSX-R1000 Superbike to challenge at the front, which is where we need to be. I had a bit of good luck in race one getting eighth, but in race two we took a gamble with a hard wet, but we just couldn't get any grip with so much standing water when it poured down after a couple of laps. I've been really putting the effort in away from the track with my fitness, so today has been very frustrating and Brands can't come soon enough for me."

Philip Neill - Team Principal:

"It goes without saying; Mallory Park didn't quite deliver the results we had hoped for. Eighth in race one, in controversial circumstances, was not a strong result for us, but did get us some points. To be fair to Ian, we did take a gamble on a hard wet in race two, hoping the rain would stop and a dry line would appear. That didn't happen and it wasn't a good weekend all round for the whole team.

"I don't want to be too critical on Ian or Atsu, as riding a 210bhp machine around the tight and twisty Mallory Park circuit cannot be the most pleasant of experiences, and in the wet I'm sure it was a bit daunting."