Author: Helen Pask
Posted on: Monday, Jul 20 2009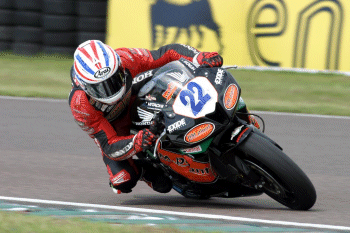 Prior to the race start the heavens opened at the Leicestershire track making tyre choice a gamble. But Plater and the HM Plant Honda team opted for the sensible choice of intermediates and this proved to be the correct decision as the Woodhall Spa rider who began his campaign from a second row grid position shot through to take up third place on the opening lap of the 25-lap race on Sunday.



But the competition was fierce with a gaggle of riders all jostling for position and Plater chose the safer option of dropping back a couple of places to defend his championship lead.



He continued to circulate within the top five until the final two laps when he was bumped back to seventh at the finish line.



"I was being hindered by a few riders who passed me and pushed me wide at the start which lost me a little bit of time. They were all banging into each other during the first few laps and I didn't want to risk a crash as I have a lot more to lose than them as I hold the series lead. It is frustrating when you do all the hard work all weekend and you are on the pace and then it is all down to a lottery on tyre choice because of the weather. It is so hard to pass here at the best of times but the dry line at the Esses was only 150mm wide so it was virtually impossible to make a safe pass.



"We are still leading the championship by 11 points and I am on the pace so I am not whinging but it's so disappointing for both myself and the crew that we are on the pace all weekend and come the race we get a lower result than we would have hoped for – but that's racing for you!"



The HM Plant Honda team are at Cadwell Park on Tuesday for a full day of testing prior to the next round at Brands Hatch on August 9.



Plater explained: "The Supersport development has stood still really as we have been so busy with the NW200 and the Isle of Man TT races so we aim take full advantage of our day at Cadwell to move forward and make sure we are competitive for the next round."



It could be a busy time for the Lincolnshire ace as he is expected to take over Glen Richards' British Superbike ride while he recovers from his broken leg. There are three Superbike races at Brands Hatch, the first on Saturday and two more on the Sunday. That would give Plater four races in all to contest over the weekend but with Josh Brooks now sidelined with a thumb injury after his crash at Mallory the team may revise their initial plans and an announcement from HM Plant Honda is expected prior to the event.