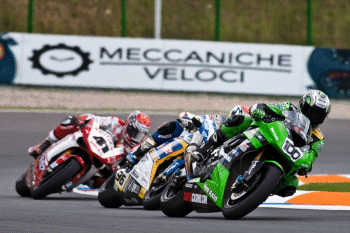 Australian Broc Parkes and Japanese rider Makoto Tamada got off to a great start with the www.supercasino.com, Vent-Axia and Kick Energy-backed Ninja ZX-10Rs running inside the top ten in early practice but the teams hopes were dented when Parkes had a big crash on Saturday morning which set them back but despite this, both riders qualified for Superpole.


However, Parkes suffered another crash whilst running inside the top six early on which meant a 19th place start for him but Tamada, on the comeback trail after injury, was inside the top ten of the second Superpole session only to be bumped back to 11th but nonetheless, it meant a row three start for him.


In the first race, both riders made bad starts but battled through the field to end up with Tamada in 10th position, after holding 7th for much of the race before lack of rear grip dropped him down, and Parkes claimed 12th place for good measure.


However, in race two, both riders were destined not to add to their points tally as Parkes battled against set-up woes, the legacy of his two high-speed crashes on Saturday, to finish in 16th place just outside the points but worse was to befall Tamada.


In a third lap clash with Lorenzo Lanzi, Tamada tumbled and as a result, sustained a broken left middle finger, which was a repeat of his Monza injury, meaning he scored no points either.


The PBM Team is next in action at the MCE Insurance British Superbike Championship round at Brands Hatch in two weeks time (August 7/9) where Parkes will be looking to mix it up with the BSB regulars and Tamada is facing a race against time to get fit for the meeting following his hand injury.


Broc Parkes: "Its been an up-and-down weekend as the bike was working really well here on Friday but I had two crashes yesterday which set us back on our bike set-up and made us miss out on moving up the grid during Superpole. Starting that far back is always hard and I didnt get a good start in race one so to end up twelfth was a bit of luck due to a few crashes at the front. In race two I didn't get a good start again which was a shame as we had much better lap times and rear grip which would have put us in the top ten had we qualified better. Overall I feel disappointed things didn't work out as well as we'd hoped as we could have been a definite top ten here in Brno for both races."


Makoto Tamada: "I felt a lot more confident on the Ninja ZX-10R this weekend as the machine was working really well. We made some big improvements with suspension and the swinging arm and we had good engine power. I was running in the top ten for the majority of the sessions and was very happy to qualify on the third row and make it into Superpole. In race one I didnt have such a great start but I was able to move up and battle for seventh before I ran out of rear grip and had to finish in tenth. Race two was a major disappointment as I was hit by another rider on lap three and broke my middle finger again from the previous injury and wasn't able to finish the race."


Paul Bird, Team Owner: "We had mixed fortunes this weekend in Brno. In one instance the bikes never looked so strong on track and then on the other we were pushed back by unfortunate crashes during qualifying for Broc and also in race two for Makoto. I feel the race results didn't do us justice as this was a circuit which was well suited to our bike and we could have finished with a few more points. At least we've proved that we have made progress again and taken some positive steps forward so we just have to keep the momentum up for the next few races."


Paul Risbridger, Team Manager: "We started the weekend from Friday onwards fairly strongly on the ZX-10R. We had some new chassis parts and suspension set-up to try which both riders said was working well. This was proved in Free Practice and Qualifying sessions over the weekend. It was encouraging to see Makoto's performance, which was the strongest of the season so far; when in race one he was a genuine top ten contender. Unfortunately the race results were affected by a number of crashes and this prevented us achieving the top ten finishes we felt the bike was capable of this weekend."


The next round of the Hannspree World Superbike Championship takes place at Nurburgring in Germany on September 4/6. (www.worldsbk.com)

RESULTS RACE 1


10. M. Tamada (Kawasaki WSB)
12. B. Parkes (Kawasaki WSB)


1. M. Biaggi (Aprilia Racing)
2. C Checa (Ten Kate Honda)
3. J. Rea (Ten Kate Honda)
4. S. Byrne (Sterilgarda Ducati)
5. T Corser (BMW)
6. J. Smrz (Guandalini Racing)
7. L. Haslam (Stiggy Honda)
8. N. Haga (Ducati Xerox Team)
9. M. Lagrive (Althea Honda)
10. M. Tamada (Kawasaki WSB)


RESULTS RACE 2


16. B. Parkes (Kawasaki WSB)
DNF. M.Tamada (Kawasaki WSB)


1. B. Spies (Yamaha WSB)
2. M. Biaggi (Aprilia Racing)
3. M. Fabrizio (Ducati Xerox Team)
4. J. Rea (Ten Kate Honda)
5. C. Checa (Ten Kate Honda)
6. N. Haga (Ducati Xerox Team)
7. T. Sykes (Yamaha WSB)
8. S. Byrne (Sterilgarda Ducati)
9. J. Smrz (Guandalini Racing)
10. T Corser (BMW)

Picture: Makoto Tamada in action at Brno courtesy of Pablo Gutierrez.