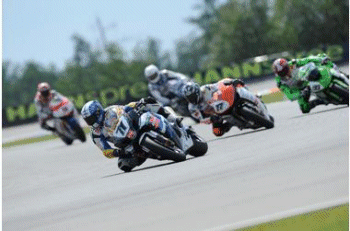 Having been unable to find a good bike set-up in practice, today's two races were always going to be hard work, so he certainly didn't a crash not of his own making: On lap 15 of race two, he was right behind John Hopkins going into a right-hander, when suddenly Hopkins slowed without warning. Kagayama hit the rear of the American's Honda and crashed. This followed a 14th in race one and left him feeling disappointed and frustrated.

Max Biaggi (Aprilia) won the first race after Michel Fabrizio (Ducati) crashed and took out Ben Spies (Yamaha) after only four laps. Honda team mates Carlos Checa and Jonathan Rea finished in second and third, with Shane Byrne (Ducati) fourth. Spies made up for his first race disappointment by winning the second race, to close the gap on series leader Noriyuki Haga (Ducati) to just seven points. Second was Biaggi, with fellow Roman Fabrizio third.

Yukio Kagayama - Race 1: 14th, Race 2: DNF:

"All year we have had problems trying to find good set-ups at the track and this weekend was no exception. And sometimes we have also had big problems with grip. In the morning warm-up we found a good tyre and I could do 2:001 lap times easily. So we chose the same tyre for the first race and it didn't work at all! It was sliding around right from the start of the race and I couldn't push hard at all. I wanted to go faster, but I couldn't turn the bike and kept missing my apexes. After five laps of fighting, I decided to go as fast as I could without crashing and that's what I did.

"We used a different tyre in race two and it was a bit better, but after a while it started chattering. I got caught in a group and I just couldn't overtake anybody because I had to be careful on the brakes. I was just behind Hopkins when his bike suddenly slowed in the corner and I hit him. I don't think it was his fault; something went on his bike, but it's just my luck that I fell and he didn't!"


WSB Results:

Race 1: 1 Biaggi (ITA-Aprilia), 2 C Checa (ESP-Honda), 3 Rea (GBR-Honda), 4 Byrne (GBR-Ducati), 5 Corser (AUS-BMW), 6 Smrz (CZE-Ducati). 14 Yukio Kagayama (JPN-Suzuki Alstare Brux).

Race 2: 1 Spies (USA-Yamaha), 2 Biaggi, 3 Fabrizio (ITA-Ducati), 4 Rea, 5 C Checa, 6 Haga (JPN-Ducati). Yukio Kagayama (JPN-Suzuki Alstare Brux) DNF.

Championship Points: 1 Haga 326, 2 Spies 319, 3 Fabrizio 273, 4 Rea 206, 5 Biaggi 200, 6 Haslam 180. 12 Yukio Kagayama (JPN-Suzuki Alstare Brux) 96.


FIM SUPERSTOCK 1000:

Team Suzuki Alstare Brux rider Claudio Corti suffered vibration problems after a few laps of today's 12-lap Superstock 1000 FIM Cup and was unable to challenge the leaders in the closing stages.

Although he retained second spot in the championship, the gap between him and series leader Xavi Simeon is now 26 points. That gap would've been less if Frenchman Maxime Berger (Honda) had not have fallen off while in the lead. He led the majority of the race and was still in front with less than a lap to go when he inexplicably tipped off, gifting Simeon the victory in the process. Javi Fores (Kawasaki) then took second, with Ondrej Jezek (Honda) third.

Claudio Corti - 6th:

"I am not so happy with how the race went today. After qualifying yesterday, I knew I could keep up a good race pace and that's what I set out to do at the start of the race. I was in fourth for the first five laps or so, but then the bike started to vibrate and I couldn't push any harder. I kept going as hard as I could, but when I got passed I could not respond. But there are still four rounds of the championship remaining and I will be fighting as hard as I can in all of them."

Superstock 1000 Results: 1 Simeon (BEL-Ducati), 2 Fores (ESP-Kawasaki), 3 Jezek (CZE-Honda), 4 Barrier (FRA-Yamaha), 5 Beretta (ITA-Ducati), 6 Claudio Corti (ITA-Suzuki Alstare Brux).

Championship Points: 1 Simeon 130, 2 Claudio Corti (ITA-Suzuki Alstare Brux) 104, 3 Fores 84, 4 Berger 82, 5 Barrier 67, 6 Beretta 56.