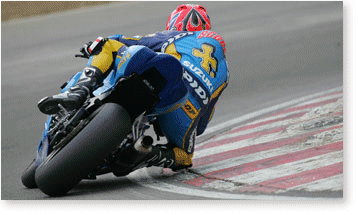 Scott was consistently in the top five throughout the day and was one of only a handful of riders to get below a 52seconds lap time for the 1.39-mile long picturesque circuit.

British Superbike Champion JR was as high as third on the timing screens at one point, but elected to remain on track testing Dunlop tyres for race distance rather than putting in a qualifying tyre and going for an outright lap time. Both sessions took place in glorious sunshine with light winds. Honda's Ryuichi Kiyonari was fastest.

There are two qualifying sessions tomorrow to determine the race grid positions. Superbike racing starts at 13:15 on Sunday, April 24th and will be covered live on Sky Sports. A highlights programme will be broadcast by Channel 4 the following Sunday.

Scott:
"We have started here where we left off at Thruxton - basically we have a good base set-up and we are now refining it for the demands of a tight, twisty and bumpy Mallory Park circuit.

"I am looking for more stability under braking and working on the suspension of my Rizla Suzuki to give me more speed through the corners. We will be trying different rear tyres and some changes to the front suspension tomorrow to try and cut our lap times."

JR:
"We worked on the balance of my GSX-R1000 and made big improvements as the day progressed. We have lengthened the wheelbase to add stability and that allows me to drive out of corners quicker.

"Backmarkers were a real issue for me today, I just couldn't get a single clear lap. It didn't feel like a closed circuit, it was more like the M25 on a Friday afternoon out there!"

Niall Mackenzie, Team Performance Coordinator:
"It's great to see both JR and Scott riding aggressively on their Rizla Suzuki GSX-R1000s. With Scott, he is gaining in confidence on the bike and riding it the way he wants. With JR you can see his attitude becoming more focused as his leg heals.

"Practice was good for both riders - they got through a lot of set-up and tyre testing and are in strong positions to improve and attack the top of the time sheets in qualifying."

Practice Times: 1: Ryuichi Kiyonari (Honda) 51:415s, 2: Dean Thomas (Kawasaki) +0.113, 3: Karl Harris (Honda) +0.271, 4: Glen Richards (Kawasaki) +0.495, 5: SCOTT SMART (RIZLA SUZUKI) +0.553, 6: Leon Haslam (Ducati) +0.594, 7: Michael Rutter (Honda) +0.618, 8: Gregorio Lavilla (Ducati) +0.939, 9: Ben Wilson (Kawasaki) +0.991, 10: JOHN REYNOLDS (RIZLA SUZUKI) +1.068.