BIRCHALL BROTHERS EXTEND THEIR WORLD CHAMPIONSHIP LEAD
Author: Helen Pask
Posted on: Sunday, Aug 23 2009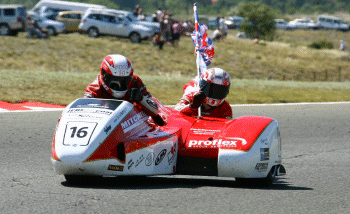 The Mitchells of Mansfield sponsored brothers dominated qualifying, setting pole with a lap of 1m 31.362s set in the first of two qualifying sessions and the brothers were anticipating a top result in the 11-lap sprint race on Saturday.

But things didn't go quite to plan for the series leaders as they encountered a problem with a split pipe which resulted in Tom (passenger) being sprayed with oil throughout the 11 lap affair.

Nonetheless Ben and Tom persevered and ended the race in a valiant second place, setting the fastest lap of the race with a lap of 1m 32.232s, to pick up a further 20 championship points to add to their tally.

"It is all credit to Tom who managed to hold on despite being covered in oil," said Ben. "Our series lead has been chopped to just four points but I am sure we can go one better in the big race tomorrow."

As the race got underway Ben and Tom slotted into second place but overtook former champion Tim Reeves at the end of the lap to take command at the front. The brothers were never troubled again and began to pull away to establish a substantial lead over reigning champion Pekka Paivarinta and passenger Adolf Hanni.

At the end of a gruelling 20 laps Ben and Tom took the chequered flag with a 12.8s advantage over Paivarinta and Hanni – again setting the fastest lap of the race with a lap time of 1m 32.859s.

This fine result extends the Birchall Brothers series lead up to 14 points over Paivarinta and these two will go head to head in the final round of the series at Le Mans on September 6.

Ben has one hand firmly on the trophy and said: "We are not counting our chickens yet, anything can happen in that last race.

"But this is a golden opportunity for us to win the world championship and we will be striving to do just that at Le Mans. We have a good advantage so realistically if Pekka happens to win the race we just have to follow him home and finish within the top four and we are there."

The final countdown will take place at Le Mans in France over the weekend of September 4-6.