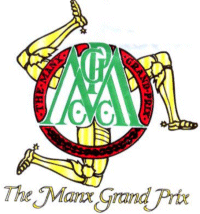 Juniors 7 & 6 Scott Wilson and Wayne Kirwan were first away.

Ryan Kneen was provisionally fastest in the Junior class at 115.626mph, followed by Stephen McIlvenna at 115.259 and Simon Fulton at 115.242mph.

The Senior class was headed by Kneen and McIlvenna whose Junior times were linked qualifying for both the main Manx Grand Prix classes.

Quickest '750' was Noel Patterson at 115.253mph, with Glyn Jones lapping at 114.534mph.

Paul Owen lapped at 111.562mph to top the Lightweight leader board from Roy Richardson (111.027mph) and Dan Sayle 110.164mph.

1925 and the remaining classes set off for their session.

The two Paton's headed the Senior Classic leader board, Ryan Farquhar at 110.844mph and Olie Linsdell at 107.568mph.

Completing an Italian machine top three was the MV Agusta of Alan Oversby at 106.713mph.

The Junior Classic was topped by Roy Richardson at 99.898mph, followed by Bill Swallow at 97.441mph and David Madsen Mygdal at 93.546mph.

2008 Lightweight Classic winner Ewan Hamilton showed he was in no mood to let go of the coveted trophy as he was quickest on his Suzuki at 92.259mph. He was followed by Bud Jackson at 92.039mph and Jonathan Cutts at 91.803mph.

Newcomers A was headed by Sean Murphy at 114.492mph, whilst class B saw Andrew Farrell at the top with a lap at 101.737mph.

The new Post Classic 2-stroke category was topped by Brian Mateer at 105.497mph, followed by Chris Moore at 105.425mph and Philip McGurk at 105.271mph.

The 4-stroke class was headed by the 750cc Triumph of Madsen-Mygdal at 96.771mph, with Farquhar on the 997cc Suzuki at 95.949mph.

Finally the busiest class of the evening the Ultra Lightweight had Joe Phillips in front at 106.393 mph, with Mike Minns at 106.369mph and Wayne Kirwan third quickest at 106.055mph.

A total of 317 machines passed through Technical Inspection this evening compared to 297 on Saturday evening.

The breakdown is:
Senior Classic: 38
Junior Classic: 47
Senior 25
Junior: 76
Lwt/U-Lwt: 70
Newcomers 40
Post Classic 21

There were seven incidents reported during the evening, Glyn Jones clipped the wall at the Waterworks and seen by the Doctor.

Mark Woods was off at the Gooseneck, as was Jochen Trockel. Paul Noble came to grief at Sulby Bridge, whilst Chris Foster came off at Governors, followed by Stuart Thomas at the same spot. Alan Pahor slid at Kerrowmoar.

All reported as OK.

The next session is Tuesday 25th August, with road closing at 18.00 hours.