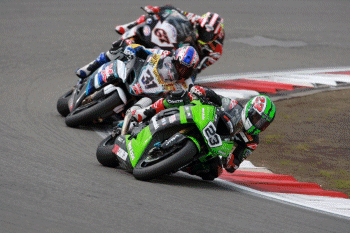 With Japanese rider Makoto Tamada returning after injury, and Australian Broc Parkes buoyed after a superb performance at the Brands Hatch BSB round where the team was guesting last month, the Paul Bird Motorsport Team was hoping to continue where they left off but it wasn't to be.

Friday's wet practice hindered their progress but with dryer conditions on Saturday, both riders easily made it into the top twenty for Superpole 1 and maintained good speed into Superpole 2.


But any hopes of a good result were scuppered on the very first corner of the opening race when the Stiggy Honda of John Hopkins skittled the pack causing both Tamada and Parkes to crash out as the race was red-flagged.


The luckless Tamada suffered concussion in the incident and couldn't make the restart as he was being checked out in the medical centre whereas Parkes was uninjured and took to his spare www.supercasino.com, Vent-Axia, Kick Energy and Henleys-backed Kawasaki Ninja ZX-10R for the restart, but crashed out on lap two.


With Tamada being ruled out of the second race due to the slight head injury, it was down to Parkes to uphold honour and he did his best as he battled for the lower leaderboard positions, eventually bringing the machine home in 13th place at the end of the 20-lap race.

Broc Parkes: "The weekend didn't go my way at all and I'm really disappointed. I really struggled in the wet conditions on Friday but come Saturday we found a decent setting in the dry and I was happy to be in Superpole one and two but I would have liked to have started a little further up the grid but wasn't able to get in a final fast lap. The races didn't go our way at all when in race one I was knocked off by another rider on turn one. I was able to restart on my second bike but I wasn't comfortable with the settings and lost the front after running wide early on in the restarted race. In race two, I wanted to get some points in and to make up for race one but having had three crashes over the weekend, it meant that my bike set-up wasn't perfect and I really struggled with rear grip and I wasn't able to improve on my starting position. I want to put this weekend behind me and to focus on a good result in Imola."

Makoto Tamada: "I was happy with the bike set-up and my qualifying position this weekend but had some very bad luck once again which meant I was not able to finish a race. I had a good feeling on the bike with the swing arm improvements and the braking stability was also much better. In race one I was ran into on turn one by someone and was hit again from behind by another rider which put me out of the race. I didn't suffer any serious injuries but knocked my head a little. I was taken to hospital for precaution and further tests and was hoping that I could make a full restart for race two but this wasn't to be despite me feeling OK. I was declared unfit by the doctor so had to watch the race from the garage which was really disappointing for me and the team as they worked really hard to repair my bikes in time for race two. All I can say is that I'm looking forward to some better luck for the Imola race in a few weeks time."

Paul Bird, Team Owner: "Once again it's been an up-and-down weekend for the team. We seem to show really good potential in practice and qualifying but can't seem to turn this into decent results in the races which is frustrating for all. Both riders suffered severe bad luck in race one with both being taken out of the race which obviously set us back with the set-up for Broc in race two. I was disappointed for Makoto not to complete a race as he was determined to start race two and showed good pace all weekend but this was out of our hands due to medical reasons. Lets hope that we can show the bike's potential at the Imola race."

Paul Risbridger, Team Manager: "It's been another challenging weekend for the team. We started off with a very disappointing pace in the wet weather on Friday but come Saturday and qualifying, we felt the bike was working well and we were able to put in a solid performance for Superpole. Unfortunately Sunday didn't go our way with Makoto being ruled out to race by medics after his race one incident and Broc having two crashes in race one. Although Broc was able to restart, we never really recovered our pace in the second race. It was good to get some points but a disappointing weekend for the team."


The next round of the Hannspree World Superbike Championship takes place at Imola in Italy on September 25/27


RESULTS RACE 1

DNF M. Tamada (Kawasaki WSB)
DNF B. Parkes (Kawasaki WSB)

1. B. Spies (Yamaha WSB)
2. N. Haga (Ducati Xerox Team)
3. C. Checa (Ten Kate Honda)
4. J. Rea (Ten Kate Honda)
5. M. Biaggi (Aprilia Racing)
6. L. Haslam (Stiggy Racing Honda)
7. M. Fabrizio (Ducati Xerox Team)
8. T. Corser (BMW Motorrad Motorsport)
9. T. Sykes (Yamaha WSB)
10. S. Byrne (Sterilgarda Ducati)


RESULTS RACE 2


13. B. Parkes (Kawasaki WSB)
DNS. M. Tamada (Kawasaki WSB)


1. J. Rea (Ten Kate Honda)
2. B. Spies (Yamaha WSB)
3. C. Checa (Ten Kate Honda)
4. M. Biaggi (Aprilia Racing)
5. L. Haslam (Stiggy Racing Honda)
6. T. Corser (BMW Motorrad Motorsport)
7. R. Kiyonari (Ten Kate Honda)
8. T. Sykes (Yamaha WSB)
9. M. Fabrizio (Ducati Xerox Team)
10. Y. Kagayama (Suzuki Alstare BRUX)


Picture: Broc Parkes in action at the Nurburgring.