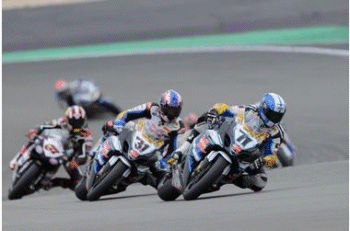 After qualifying and Superpole, today was always going to be a tough one for the duo, especially for Muggeridge, who was racing the Suzuki Alstare Brux GSX-R1000 K9 for the very first time.

Yukio Kagayama - Race 1: 15th, Race 2: 10th:

"My start in race was not so bad, but after only five laps my rear tyre had no grip at all. For a few laps, I tried to push just as hard as normal, but after many near crashes I had to change my riding style and be more steady. So that's what I did and I was able to get to the end of the race. Between race one and race two, my team and I decided to try a set-up we had never used in a race before. It was a big gamble and for me it was a bit of a scary feeling because I did not know what would happen. I made a good start and was surprised because the feeling was not so bad and I could lap one second a lap faster then the first race! This setting makes me feel a lot more positive about the next race in Imola and now I am looking forward to seeing if it will work as well as we hope."


Karl Muggeridge - Race 1: 12th, Race 2: DNF:

"I am disappointed about my crash in race two because my intention was to bring the bike home in both races today. I made a good start from row five in race one and moved up the field a bit, but soon I began having rear grip problems. This meant that the electronics had to work overtime to cope with the problem, and that slowed the bike down. We softened the rear for race two and the grip was better and I was able to lap more quickly. I hadn't made such a good start this time, so I had to work hard to get up to the group ahead. I decided to try and adjust the engine braking and maybe I changed the run-in to the corners too much and I lost the front. I hadn't entered the corner any faster than before but I had changed the characteristics of the braking and that probably caused my crash. I suppose it was my mistake really because I think I could've got another 12th or better finish otherwise. But I have enjoyed working with the team and hope to get another chance sometime."

WSB Results:

Race 1: 1 Spies (USA-Yamaha), 2 Haga (JPN-Ducati), 3 C Checa (ESP-Honda), 4 Rea (GBR-Honda), 5 Biaggi (ITA-Aprilia), 6 Haslam (GBR-Honda). 12 Karl Muggeridge (AUS-Suzuki Alstare Brux). 15 Yukio Kagayama (JPN-Suzuki Alstare Brux).

Race 2:1 Rea, 2 Spies, 3 C Checa, 4 Biaggi, 5 Haslam, 6 Corser (AUS-BMW). 10 Yukio Kagayama (JPN-Suzuki Alstare Brux). Karl Muggeridge (AUS-Suzuki Alstare Brux) DNF.

WSB Points: 1 Spies 364, 2 Haga 346, 3 Fabrizio 289, 4 Rea 244, 5 Biaggi 224, 6 Haslam 201. 12 Yukio Kagayama (JPN-Suzuki Alstare Brux). 15 Max Neukirchner (D-Suzuki Alstare Brux) 75. 29 Karl Muggeridge (AUS-Suzuki Alstare Brux) 8.

SUPERSTOCK 1000:

Team Suzuki Alstare Brux rider Claudio Corti battled his way up from the fourth row of the grid in the seventh round of this year's Superstock 1000 FIM Cup at the Nurburgring today to take a hard-fought for fifth place.

Xavi Simeon (Ducati) won the 11-lap race, nearly three seconds ahead of his nearest rival, Maxime Berger (Honda), with Javi Fores (Kawasaki) third.

Claudio Corti - 5th:

"Today was not so easy, but I made a good start and was eighth at the end of the first lap. I had no big problems with my bike in the race, but my main problem was Daniele Beretta. He held me up for a long time and by the time I forced my way past him there was not enough time to catch Giugliano in front. So fifth is not so bad, but it could've been even better and that is why I am a bit disappointed today."

Superstock 1000 Results: 1 Simeon (BEL-Ducati), 2 Berger (FRA-Honda), 3 Fores (ESP-Kawasaki), 4 Giugliano (ITA-Suzuki), 5 Claudio Corti (ITA-Suzuki Alstare Brux), 6 Beretta (ITA-Ducati).

Championship Points: 1 Simeon 155, 2 Claudio Corti (Suzuki Alstare Brux) 115, 3 Berger 102, 4 Fores 100, 5 Barrier 67, 6 Beretta 66.