STEVE PLATER – CROFT PREVIEW
Author: Helen Pask
Posted on: Monday, Sep 07 2009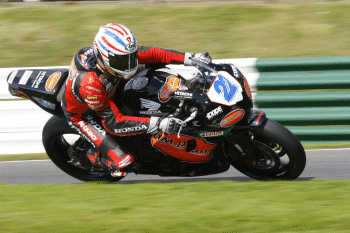 Plater, from Woodhall Spa near Lincoln holds a narrow two point advantage over Yamaha rider Billy McConnell and it is vital to his championship challenge that he completes the race at Croft ahead of his rival.

With two wins each under their belts the pair will be going head to head for the championship lead at the North Yorkshire circuit and Plater knows he must steer the HM Plant Honda machine to victory to stave off the attention of the young Australian rider.

"Things are really tight now at the top of the table and its not just McConnell I have to think about," said Plater. "There are four of us who have a realistic chance of winning the championship and although James Westmoreland and Ben Wilson are 30 or more points behind us they could still pose a threat as there are 75 points at stake in the remaining three races.

"It is essential that I complete my race at Croft ahead of McConnell as that would put me a few more points ahead of him. Billy is on form right now having taken the win last time out but I hold the series lead and he has to beat me on Sunday if he is to overtake me. The pressure is on for both of us and all I can do is ride to the best of my ability and see how it pans out."

Free practice takes place on Friday followed by two 35-minute qualifying sessions on Saturday. The 18-lap British Supersport race is scheduled to start at 3.50pm on Sunday when Plater will be hoping to leave Croft with his series lead intact.