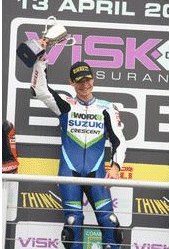 Guintoli has never ridden or seen the Croft circuit in North Yorkshire, so faces yet another steep learning curve if he's to be on the pace come Sunday's races. As well, he faces increased competition this weekend as Josh Brooks returns to the grid joined by former BSB champion Ryuichi Kiyonari and Guintoli's former stand-in Tommy Hill.

Sylvain Guintoli:

"I've been doing my usual preparation of watching DVDs to get an idea of how the circuit goes and I've even been looking at the team's data from last year. I understand it's another ex World War II airfield circuit, so it's flatter and maybe less technical than Cadwell Park.

"I was pretty sore after Cadwell Park and I definitely made a mistake by not icing my leg and knee after each ride. But it was important for me to get back into the rhythm of racing and for my leg to get used to the stresses and strains again. I think Cadwell was certainly the greatest test for it; everything from here on should be easier, physically at least.

"It's going to be an exciting weekend this weekend and with Kiyo, Brooks and Tommy Hill added to the starting grid, it can only be good for the competition and Championship."

Jack Valentine - Team Manager:

"We always look forward to coming to Croft; it's a circuit I personally like and it should suit the Suzuki well. We'll have another one of those weekends, though, where Sylvain needs to learn the track and we make a gradual build up. And this weekend he faces probably the strongest field we've seen in the championship this year. With the weather forecast looking good it should an exciting weekend."