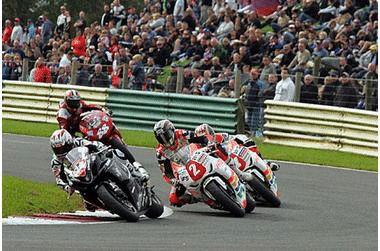 Seeley led across the line on nine of the 15 laps, but was forced wide in the closing stages of the final lap by Brogan - the manoeuvre allowing John McGuinness to steal in and take the win. Seeley managed to keep his focus taking third spot on the podium, albeit a little disappointed.

Alastair Seeley:

"As a certain road racer would say, 'I was robbed'," joked Seeley. "I've been involved in a good title battle with Brogie this year, but his move in this race was a bit Kamikaze. That's racing I suppose, but I extended my lead in the championship even further to prove how good the 2009 GSX-R1000 is performing over its main rivals."


In the BSB class, Ian Lowry struggled to get his GSX-R1000 Superbike off the line in both races, battling through from 11th place at the end of lap one in both outings. He eventually scored 20 points - 5th & 7th - in an impressive display, which now places the rookie fourth in the overall standings ahead of more experienced rivals Josh Brookes, Simon Andrews and Julien Da Costa.

Atsushi Watanabe struggled to convert his qualifying position into a points-scoring result with 18th and 21st places.

Ian Lowry:

"Race one went really well for me after a bad start. I had to force my way through the field and I was happy enough with the end result. In the second race, my start was actually a lot better but Kiyonari hit me going into turn one, leaving me all the work to do over again. My GSX-R1000 came through them like a 'wee train', closing a 2.5 second gap to Tommy Hill and Simon Andrews in just five laps. Unfortunately my efforts ended in vain as I just couldn't get past them, but finishing the day fourth in the championship is positive enough. I'm now looking forward to Silverstone, as our bike will suit the track. Big thanks to all the boys in the team as they had a lot of hard work to do after I wrecked my bike in morning warm up."

Philip Neill - Team Principal:

"Alastair had a difficult enough task keeping his focus at Croft with the Championship already wrapped up, but he did a great job as usual in his fight with Brogan. Steve was riding a little wild out there and was lucky not to have taken both riders down with his last corner move. Alastair had the win in the bag and I suppose it was just a matter of time before something like this happened. I'm not sure if nine wins in a row has ever been achieved before, but now we can begin to think about the Superbike.

"Ian's crash in morning warm-up may have affected his confidence and he made both races more difficult for himself with average starts. Croft is not the place to struggle off the line, but after that, his rides were very good, matching the podium pace times.

Unfortunately a race includes the starts, and we must now work even harder to find a way to improve them for Ian. When we do that, he will fulfil the superb potential we all know he possesses."