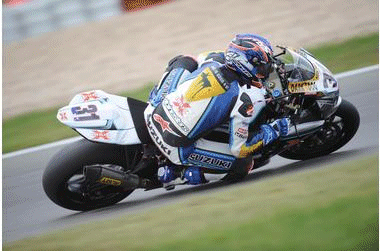 Muggeridge deputised for the German in the last round at the Nurburgring and is no stranger to Suzuki Alstare, so was the logical choice to ride in Italy. Neukirchner, however, will travel to Imola and will consult with the Clinica Mobile before a decision is made as to whether or not he will make his return at the following round in Magny-Cours next week.

Since the Superbike World Championship was last in Imola in 2006, the circuit has undergone several modifications, including a completely different approach to the final chicane and entrance to the pits. Kagayama has tested this new layout, at a Top Teams test back in July, but for Muggeridge, it will be his first time racing the new design, so he will have to spend the first practice learning the track before he can attack it.

Yukio Kagayama:

"We tested here in July and I think that the changes may be better for cars than they are for bikes. The approach to the final chicane is not so good for us and I hope that nobody crashes in this area, especially if they are in a group of riders. But of course, the track is the same for all of us and I, like everybody, will be doing the best we can.

"In the last round, we made a radical change to the bike and it worked out pretty well, so this is where we will start from in first practice. I am hoping that we can be more competitive this coming weekend because I really want to do well again. Sometimes this season has been a bit frustrating, so it would be good to have some positive results in Imola and then more of the same in the last two rounds."


Karl Muggeridge:

"It's great to get another opportunity to race for Suzuki Alstare Brux and I hope that now that I know the bike a bit better I can give them better results. There was a lot for me to learn in the Nurburgring and I will continue this process in Imola. I will be at a disadvantage to most - if not all of - the top riders because they tested in July and so they will know the new layout better than me. I am looking forward to working with the whole team again and repaying their faith in me. I would like to wish Max all the best and hope his recovery has gone well and he returns soon. In the meantime, I will do the best I can."