SEELEY TAKES ISB SERIES LEAD WITH HAT TRICK
Author: Suzuki Press Release
Posted on: Friday, Sep 25 2009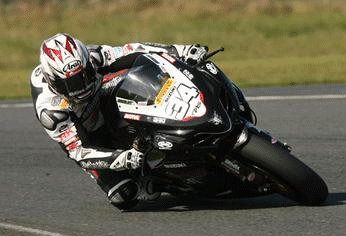 Seeley had missed nine races in the 2009 ISB Championship prior to the event due to British Championship commitments, but his hat trick of wins on the west coast made it nine wins from nine starts, catapulting him to the top of the table with only five races remaining.

Seeley also shaved over half a second off the existing track lap record at the undulating 2.1-mile International Circuit and is now a firm favourite to land his second championship crown of the season.




Alastair Seeley:

"The configuration of Superbike chassis and 'stock motor worked well in the GSX-R1000 at Anglesey, and apart from the first race of the weekend, I was never headed. We were under the lap record as early as lap four or five during our first practice session and to shave over half a second off the circuit record again proves how good the 2009 bike really is. We did have to adjust a few bits and pieces to suit the circuit, and I must thank our mechanic Leigh for all his help."

Philip Neill - Team Principal:

"It was good to see Alastair familiarising himself so quickly with our Superbike chassis and to have won three races and taken another lap record is fantastic. With the British Superstock title now in the bag, the Irish Superbike Championship is something Alastair would like to win for Suzuki and all our sponsors and he's now on course."

Irish Superbike Championship [current standings]: 1 Alastair Seeley [Relentless Suzuki] 225 points; 2 Mark Johnston 215.5; 3 David Haire 214.5; 4 James Dickson 207; 5 Gerard Kinghan 206.5; 6 Kirk Jamison 171.