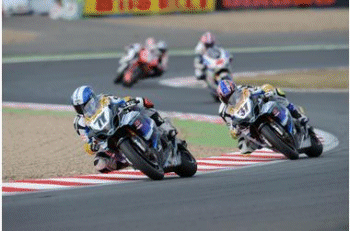 His team mate Karl Muggeridge had a slow-speed tumble in race one, but then made amends by posting a solid eighth position in race two.

Ben Spies (Yamaha) and Noriyuki Haga (Ducati) took a win apiece to leave Haga leading the championship by just 10 points. Spies won today's first race, with Haga second and Max Biaggi (Aprilia) third. Haga got his revenge in race two with Biaggi second and Jonathan Rea (Honda) third.

Yukio Kagayama - Race 1: 7th, Race 2: 6th:

"Today my results were the best they have been for a long time, but I want more. The progress the bike has made on its new suspension has been good, but again, I want more. There have been some not so fun times this season, but at Imola last week and here in Magny-Cours, I am enjoying being a racer again. The settings we used on the bike today were the best they have been this weekend, so a big thank you to my team for doing a good job. There were still some problems with rear grip, but I hope that we can solve this problem in Portimao. I am looking forward to continuing the good progress there and ending the season on a high."

Karl Muggeridge - Race 1: DNF, Race 2: 8th:

"I suppose the crash in race one was probably my mistake: It was early in the race and the fuel tank was full and I must have got in a bit too hot and lost the front. Maybe because of this, I rode a bit tentatively at the beginning of race two and it took me a bit of time to get going properly. My bike was OK on the fast sweepers, but it struggled for grip on the slow, small corners and I reckon that cost me about four-to-five-tenths-of-a-second each lap. I am getting more used to the bike every time out and feel we are making good progress with it and the new suspension. Hopefully, I will have another chance in the next round, but I'll wait and see on that."

World Superbike Results:

Race 1: 1 Spies (USA-Yamaha), 2 Haga (JPN-Ducati), 3 Biaggi (ITA-Aprilia), 4 Fabrizio (ITA-Ducati), 5 Haslam (GBR-Honda), 6 C Checa (ESP-Honda), 7 Yukio Kagayama (JPN-Suzuki Alstare). Karl Muggeridge (AUS-Suzuki Alstare) DNF.

Race 2: 1 Haga, 2 Biaggi, 3 Rea (GBR-Honda), 4 Spies, 5 Haslam, 6 Yukio Kagayama (JPN-Suzuki Alstare). 8 Karl Muggeridge (AUS-Suzuki Alstare).

WSB Points: 1 Haga 436, 2 Spies 426, 3 Fabrizio 346, 4 Biaggi 293, 5 Rea 279, 6 Haslam 241. 12 Yukio Kagayama (JPN-Suzuki Alstare) 123. 21 Karl Muggeridge (AUS-Suzuki Alstare) 21.


SUPERSTOCK 1000:

Team Suzuki Alstare rider Claudio Corti took fourth place in the ninth round of this year's Superstock 1000 FIM Cup at Magny-Cours, but Xavi Simeon (Ducati) took second and with it, the title.

Corti's team cured most of yesterday's vibration problems by making changes to the front suspension, and the result was better, but not perfect.

Maxime Berger (Honda) won today's 14-lap race with Simeon second and Sylvain Barrier (Yamaha) third.

Claudio Corti - 4th:

"My bike was better than yesterday. The front end was better but maybe the rear was a bit too hard because the bike was spinning a bit. I made a good start and was second, behind Barrier, before Simeon took over the lead on lap two. I was then involved in a fight with Badovini, Berger, with Simeon and Barrier just ahead. I did my best, but could not find a way to get past and stay in front of Badovini and Berger. Badovini's crash meant that I moved up to fourth, with two laps left and that's where I stayed. I want to congratulate Simeon on the title and would like to get my revenge by winning the last race in Portimao."

Superstock 1000 results: 1 Berger (FRA-Honda), 2 Simeon (BEL-Ducati), 3 Barrier (FRA-Yamaha), 4 Claudio Corti (ITA-Suzuki Alstare), 5 Mahr (AUT-Suzuki), 6 Baz (FRA-Yamaha).

Championship Points: 1 Simeon 200, 2 Claudio Corti (ITA-Suzuki Alstare) 148, 3 Berger 127, 4 Fores 116, 5 Beretta 85, 6 Barrier 83.