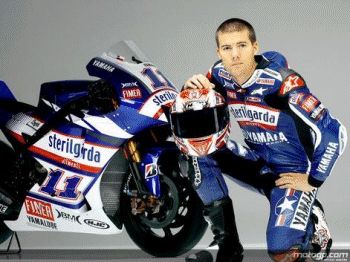 Before becoming incorporated into his the Monster Yamaha Tech 3 team on Monday in the post-race Valencia test American rider Ben Spies did a good job for Yamaha in Sunday's final MotoGP contest of the year, crossing the line in seventh place – just ahead of Repsol Honda's Andrea Dovizioso to help future team-mate Colin Edwards up the standings.

Edwards finished the race in fourth place himself, to leapfrog Dovizioso for fifth in the final 2009 classification, and then embraced and thanked his fellow Texan Spies after the Valencian extravaganza had concluded.

Riding in the colours of the Sterilgarda Yamaha Team this weekend and starting the race from ninth on the grid Spies rode a sensible but impressive race and will now enjoy three days with his new team in high spirits.

Reviewing the race he told motogp.com, "It was pretty good. I actually got a better start than I expected but in the first few laps I got shuffled around and bullied a little bit. I guessed that would be the case as I haven't figured out how to get comfortable quickly on the tyres. Eventually I slowly picked off some people with some smart passes, as I didn't want to mess up anyone else's championship position and I wanted to be clean, but still ride as hard as I could."

He continued, "I saw Dovizioso and then I was thinking about him and Colin (Edwards) and their battle and I managed to get past him. Then I kept my head down and tried to keep the laps fast and I recorded my best time on the last lap, so it was good. I didn't do anything stupid and stack it up (crash), it was a good weekend and we got a top ten."

"This result is like winning a World Superbike race for me in terms of the amount of satisfaction it has given me. These are the fastest guys in the world," concluded Spies.