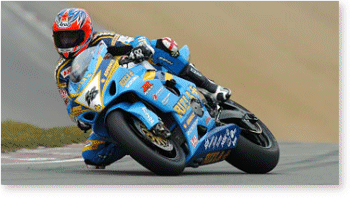 Scott enjoyed a close-fought battle for third in the opening race with Ducati's Leon Haslam and Yamaha's Sean Emmett. He went for glory on the last lap but just couldn't find a way past his rivals. In the second race, two red flags interrupted proceedings and the race was shortened to 12-laps. After a poor start Scott battled his way back to eighth by the chequered flag.

British Superbike Champion JR retired to the pits in the first race, finding the racing conditions at the circuit too arduous for his broken right leg. Rizla Suzuki elected to withdraw him from the second race of the day. Honda's Michael Rutter won both races.

You can catch the highlights of today's racing on Channel 4 next Sunday morning. Rizla Suzuki is competing again at Oulton Park in Cheshire at the fourth round of the British Superbike Championship on Bank Holiday Monday, May 2nd - a circuit where the team won four races out of four starts in 2004.

Scott:
"I nearly took third and my first podium of the season in the first race. I had the pace on the two guys in front of me but I just couldn't force my way past them.

"We had three starts in the second race and every one of them was poor. Once I got going, I was running the same times as the leaders, so there's nothing wrong with my Rizla Suzuki - we just need to get off the line quicker and we'll be working specifically on that for Oulton Park next week."

JR:
"In the opening race I was getting beaten up at every corner and my right leg was cramping badly. I made the call to retire to the pits because of the pain and an inability to ride in my normal aggressive style.

"I sat down with my crew after the race and we had a good heart-to-heart. We decided I should withdraw from the second race of the day as I honestly didn't think I could get in the points. I see my doctor on Tuesday and will have intensive physiotherapy after that.

Robert Wicks, Team Manager:
"Well done to Scott for scoring his season best performance with a fifth place in the opening race. He was riding his Rizla Suzuki as hard as he could and was racing for the final podium position right until the last lap when he ran wide trying to make a pass stick. Today is another step forward in Scott's season and it's great to see him fighting at the front - we'll be after more of the same at Oulton Park.

"JR made a tough call today by coming in. It was obvious he was in a lot of pain with his right leg and couldn't continue under those circumstances. We will now let the dust settle and see how he responds to treatment through the course of next week."

Race One Results: 1: Michael Rutter (Honda) 21:48.024, 2: Glen Richards (Kawasaki) +6.706, 3: Leon Haslam (Ducati) +10.354, 4: Sean Emmett (Yamaha) +11.299, 5: SCOTT SMART (RIZLA SUZUKI) +13.465, 6: Dean Thomas (Kawasaki) +17.638, 7: Michael Laverty (Honda) +18.015, 8: Gary Mason (Honda) 9: Danny Beaumont (Honda) +23.640, 10: Steve Brogan (Honda) +30.548. JOHN REYNOLDS (RIZLA SUZUKI) DNF.

Race Two Results: 1: Rutter 10:27.220, 2: Richards +0.946, 3: Gregorio Lavilla (Ducati) +0.997, 4: Thomas +2.021, 5: Haslam +2.513, 6: Karl Harris (Honda) +8.390, 7: Mason +8.603, 8: SCOTT SMART (RIZLA SUZUKI) +8.826, 9: Laverty +9.086, 10: Emmett +9.601, JOHN REYNOLDS (RIZLA SUZUKI) DNS.

Championship Positions after Round three: 1: Rutter 119, 2: Ryuichi Kiyonari (Honda) 100, 3: Lavilla 88, 4: Richards 83, 5: Emmett 65, 6: Haslam 62, 7: Thomas 54, 8: Harris 48, 9: SCOTT SMART (RIZLA SUZUKI) 36, 10: Mason 30, 12: JOHN REYNOLDS (RIZLA SUZUKI) 16.