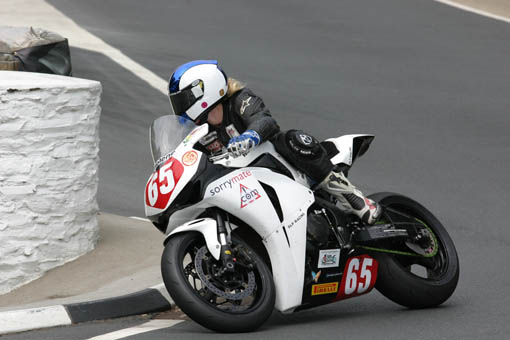 Jenny Tinmouth is to receive the Susan Jenness Trophy for her fine performances at TT '09

Entering an event on the Mountain Course for the first time, Jenny ended the TT fortnight as the fastest ever female solo competitor…a remarkable achievement. The trophy is awarded annually by the TT Supporters' Club in memory of Susan Jenness who tragically lost her life whilst marshalling an off-road event in the United Kingdom, to the female competitor who, in the eyes of club officials, had the meritorious performance at the TT.

After several visits to the IoM to acquaint herself with the course, Jenny set about official practice in a thoroughly professional manner, culminating with her fastest lap of 110.503mph in the Friday evening session. A dramatic increase in lap speed to 114.04mph saw Jenny come home in 44th position in the Superbike TT.

Next up was the first of two Relentless Supersport TT races; riding her Honda CBR600RR, she was again making solid progress, when unfortunately her gear lever bracket broke on the final lap, forcing her into retirement. However, later in the day, in the Superstock race she proved her pedigree with a stunning lap of 116.483mph, the fastest ever lap by a female at the TT, taking the crown from Maria Costello, who was one of the first to congratulate Jenny on her achievement. Jenny came home in 47th position.

Jenny decided not start in the second Supersport race – heavy rain, even hailstorms, had made the road conditions treacherous in some parts of the course. However, in terms of lap speeds, the climax came in the final race of the week – the Senior TT. Riding the sorrymate.com Honda CBR1000RR Fireblade she set her best time of 19 minutes 22.56 seconds on lap four at an average speed of 116.835mph. Riding confidently in 47th position, she was be unable to complete the final lap, due to the red flags being shown; her final lap – a flying one – would surely have yielded an even faster speed. Jenny is a well-deserved recipient of the Susan Jenness Trophy.