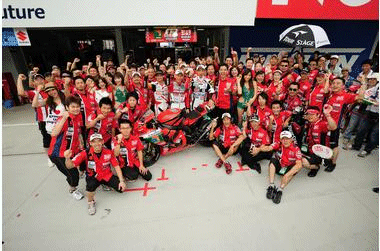 The Suzuka 8 Hour World Endurance Championship-winning team will enter selected races as a wild-card entry with the aim of gathering information and technical knowledge for the next generation of Yoshimura aftermarket products.

In a statement issued by Yoshimura Japan, President Fujio Yoshimura said: "Yoshimura has been associated with motorcycle racing for nearly 60 years and we must thank the sport for the passion it has given to us, along with the fans and team sponsors who have shared the same passion for such a long time.

"Yoshimura has always put its efforts into the development of new ideas, and our challenges have created many products. Our first 4-into-1 race exhaust, which was developed during our first overseas challenge in the USA in 1971, is the one which represents our history and one that took us into a new era in racing and the street market with a wide variety of aftermarket business.

"Now Team Yoshimura has decided to embark on a new challenge; to enter selective WSBK races in 2010 as a wild-card entrant. It should give us further opportunities to develop more new, high-quality aftermarket products for the worldwide motorcycle market.

"The economic situation has been very tough and it is not easy to take on new challenges, but we believe we still have to pursue these new challenges to support our ongoing development programme."


Pictured: Fujio Yoshimura with his 2009 Suzuka 8 Hour-winning team.