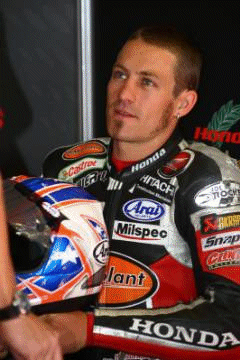 The dynamic rider duo of Ryuichi Kiyonari and Josh Brookes will compete on the CBR1000RR Fireblade in the British Superbike class, with the 2009 British Supersport Champion, Steve Plater, also taking to the seat of a Fireblade in the British Superstock Championship.

2009 Senior TT Winner, Steve Plater, will also line up on the TT and NW200 grids alongside 15 times TT legend John McGuinness, for a second season, on the Fireblade Superbike.

Building on their long term relationship since 2004, Honda (UK) Racing and HM Plant will be looking to continue their successful partnership and performance for the seventh consecutive year, in what is considered the strongest domestic motorcycle racing championship in the world.

Steve Martindale, General Manager of Honda (UK) Motorcycles, commented, "I'm pleased to confirm Honda's commitment to the British Superbike Championship for 2010 and also the team's continued relationship with HM Plant. The British Superbike Championship is very strong and the high standard of rider talent and racing can be seen at every round."

HM Plant Chairman, John Jones, said, "We have been delighted with our relationship with Honda and the exposure achieved from the HM Plant Honda team partnership over the last six years and look forward to that continuing with some great and exciting racing in 2010."

Honda (UK) Racing will also continue its long-standing relationship and support of Clive Padgett's Honda squad in 2010. Former HM Plant Honda BSB racer Glen Richards will compete in both the Superstock and Supersport classes, with John McGuinness alongside Glen in the Superstock Championship and Ian Hutchinson also in the Supersport series on the acclaimed CBR600RR.

Honda (UK) Racing has a long and successful history in both British and World motorcycle racing championships, taking the World Superbike Championship title in 1997, 2000 and 2002 before wrapping up the British Superbike title in 2006 and 2007 as HM Plant Honda with Ryuichi Kiyonari. The team has also won many other events, including British Supersport titles with Karl Harris and many North West 200 and Isle of Man races, most notably with TT legend John McGuinness.

The British Superbike Championship is the most hard-fought domestic motorcycle racing championship in the world, attracting sponsors and riders from across the globe. The championship's profile has risen over the last few seasons as television ratings and 'live' attendances at the track have increased.