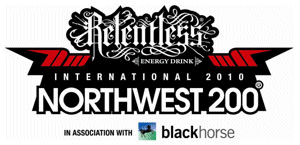 Since December, North West 200 personnel have been consulting with key organisations, residents and business people in the Coleraine area and a letter explaining the background to the concept was distributed last week to residents located round the 9 mile circuit.

Relentless International North West 200 in association with Black Horse Race Director Mervyn Whyte MBE, explained the reasons behind the changes: "Our NW200 management team is proud of the event's ongoing growth and development but are mindful that safety must always be our top priority. The new daytime practice on Thursday will replicate Race Day conditions such as road temperatures, setting sun and timing, so enabling riders to become very familiar with course layout. The daytime practice also addresses the problem in previous years of lack of practice time for competitors and allows us, for the first time, to run all classes separately. We believe altering the time of the traditional Thursday practice session will dramatically improve overall safety at the event."

"Whilst star riders compete in the North West 200 year on year, the race continues to expand and attract new riders and it is vital we offer these competitors a safe and secure practice session to build up competition speeds which are timed in excess of 150 mph. Lack of practice time has been a major concern with riders and with these new sessions we hope to facilitate them and ensure riders gain as much experience of the conditions and roads prior to Race Day."

Organisers have called on local people who live or work along the course who anticipate that they will need to leave or gain access to their homes during Thursday practice on 13th May to contact the NW200 Race Office by 30th April by email, telephone or by post. Email info@northwest200.org, post a letter to NW200 Race Office, Sandel Village, Knocklyn Road, Coleraine, BT52 1WW or telephone 028 7035 5800.

Mervyn Whyte paid tribute to all residents and businesses close to the circuit thanking them for their patience, tolerance and good-humoured support and urged everyone to support the new daytime practice session. "As always we try to minimize inconvenience as much as possible and we do appreciate the support we receive from local people. The North West 200 generates £8 million for the local economy, stimulates tourism and presents extremely positive images of the North Coast region and Northern Ireland in general to potential visitors worldwide."

Backing NW200 organisers' decision to implement a daytime practice session eight times NW200 winner Steve Plater said, "Seasoned riders will be more relaxed and less likely to make mistakes whilst rookie riders will have additional time on their own to get to know the course during daylight hours. I believe it's a very professional approach and provides a much safer competitor environment."

Havier Beltran, HM Plant Honda team manager added, "This is great news for the Relentless International North West 200 in association with Black Horse. Moving practice to during the day will give the competitors more time on the track and it's an important step forward for the event."