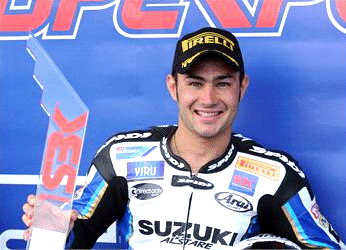 The young Briton stormed to a lap of 1:31.229, over half a second inside the lap record, in Superpole 3, ahead of Michel Fabrizio (Ducati) and fellow Briton Cal Crutchlow (Yamaha). For a while it looked as though team mate team mate Sylvain Guintoli would be joining him on the front row of the grid, but a late surge by Crutchlow relegated the Frenchman to fifth place and row two.

Leon Haslam - 1st, 1:31.229:

"I am absolutely delighted to get my first Superpole victory but the results in the races tomorrow are more important. Sitting in the garage watching the other guys go round in final Superpole and seeing their times falling was more nerve-racking than being out on the track and riding and it was a great relief when it was over. When we use qualifying tyres I have to use a slightly different riding style than when I am on race rubber.

"Today once again we concentrated on getting a good race set up and did a lot of time on race rubber getting ready for race day. From previous data, we knew there was a certain way of working at this track to keep progressing and we did that rather than just chase any lap times.

"My aim is to be in the first three in the first eight or nine laps and that will put me in a good position a good position at the end of the race. It is not what you can do in the first five laps; it's what you do in the last five laps here that is most important. Although this is my first race weekend with the team, everyone is working together fantastically well. I have felt at home here at Suzuki Alstare since the very first time we tested and the boys have made my life easy."

Sylvain Guintoli - 5th, 1:31.696:

"I thought I had done enough to get on the front row, but then I lost the position right at the end of final Superpole. It's a bit disappointing because it would've been nice to be on the front row near my team mate and it would've been great for the team. But row two is OK, and as long as I get good starts, I think I can get good results.

"The important thing though is that I am really happy with the bike and how everything is going at the moment. I used race rubber in Superpole 1 and then qualifying tyres in Superpole 2 and 3. I feel very comfortable on race tyres and I am enjoying myself here. Today we started with the same base set-up as yesterday and just made minor adjustments throughout the day. Also, I tried to improve the way I ride the bike and get more out of it, but I am just so happy at the moment and cannot wait for the races."

Final qualifying results:

1 Leon Haslam (GBR-Suzuki Alstare) 1:31.229,
2 Fabrizio (ITA-Ducati) 1:31.245,
3 Crutchlow (GBR-Yamaha) 1:31.642,
4 Checa (ESP-Ducati) 1:31.671,
5 Sylvain Guintoli (FRA-Suzuki Alstare) 1:31.696,
6 Smrz (CZE-Ducati) 1:31.757.