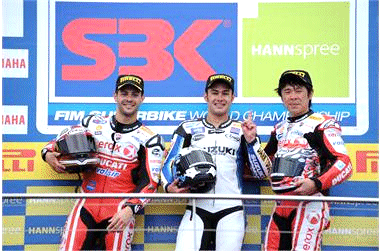 He led the race from start to finish and took the flag, just 4000ths-of-a-second ahead of Michel Fabrizio (Ducati).

He and his Suzuki Alstare team mate Sylvain Guintoli then disputed the lead for most of the second race, but Haslam's dreams of a double were dashed right at the death by Spaniard Carlos Checa (Ducati). Nevertheless, his tremendous win in race one and runner-up spot in the second puts him on the very top of the Superbike World Championship, nine points ahead of his nearest rival.

Also encouraging for the team was Guintoli's ability to run at the front and be in contention: The Frenchman led his team mate eight laps out of 22 and did not look out of place at all. This was his first race of the year, on the new 2010 GSX-R1000 bike, with a new team, but he also showed that he too will be a force to be reckoned with this year. Although he missed out on the podium, he did receive a trophy - for the fastest lap of race two - so he did not leave Phillip Island empty handed.


Leon Haslam - Race 1: 1st, Race 2: 2nd:

"I am so happy to get my first WSBK win and it feels great! I want to thank the team and all the staff back at the workshop for all their support and hard work and I'd also like to thank Francis and Patricia Batta for having faith in me.

"The first race was such hard work and it was impossible to relax for a second. I knew that I had Michel and Nori breathing down my neck, but I just kept concentrating on my lines and my braking points and tried to hold them off. I realised that Michel was in my wheeltracks going into the last turn and would try and use the draft to get past me, but I kept my head down and charged to the flag. At the end, I didn't know if I'd won or not, but when I realised that I had, I was so unbelievably happy and it was such a fantastic feeling. All weekend I knew that a win was possible, but thinking about and it happening are two different things.

"In race two, I had some problems with rear traction but I still thought I could win. I had a great fight with Sylvain and when I finally got ahead of him and made it stick, I thought he might act as a buffer between me and the rest. Then suddenly, Carlos was there. He dived under me just three corners from the end, on the last lap. I tried to get it back, but he managed to hold me off and take the flag. But it feels good to take a win and a second in my first race with the team and it feels fantastic to be leading the Superbike World Championship."

Sylvain Guintoli - Race 1: 6th, Race 2: 4th:

"I have really enjoyed today and it's been great fun. I can't remember the last time I was leading a World Championship race, so to lead quite a lot of race two was a great feeling and now I want to do it again. When I was in front, I felt comfortable and I knew I could keep up a good pace. Everything felt very smooth and it was all going to plan until I made a small mistake and Leon and then Carlos went through. Carlos and I touched in turn 8 when my elbow was in contact with his front wheel and then I tried a bit too hard to get back straightaway when perhaps I should've been a bit more patient and that's where I lost ground.

"I could've made a better result in the first race if I hadn't had such a bad start. My pace was good, but I was too far off the leaders, but I am learning about WSBK race pace and also the fact that the races are longer than what I have been used to. I am very happy with all the work we've done and am enjoying riding this bike so much. It was nice to get a trophy for the fastest lllap in race two and I hope that it will just be the start of many to come. I am looking forward to Portimao and my next trophy."

Results:

Race 1:

1 Leon Haslam (GBR-Suzuki Alstare), 2 Fabrizio (ITA-Ducati), 3 Haga (JPN-Ducati), 4 Rea (GBR-Honda), 5 Biaggi (ITA-Aprilia), 6 Sylvain Guintoli (FRA-Suzuki Alstare).

Race 2:

1 Checa (ESP-Ducati), 2 Leon Haslam (GBR-Suzuki Alstare), 3 Fabrizio, 4 Sylvain Guintoli (FRA-Suzuki Alstare), 5 Haga, 6 Rea.

Championship points:

1 Leon Haslam (Suzuki Alstare) 45, Fabrizio 36, 3 Checa 34, 4 Haga 27, 5 Sylvain Guintoli (Suzuki Alstare) 23, 6 Rea 23.