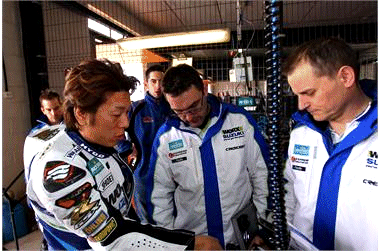 Having set fastest and second-fastest times at last weekend's tests at Cartagena, the team were again able to post consistently fast times over the past three days of testing at Guadix with both riders setting times that placed them inside the top-six.

Tommy Hill:

"Cold morning temperatures meant late starts for the testing on each day and this has meant we've had to push on to get through all our work. I'm very pleased with what we've done, the bike feels mine now and I'm finding the fast times are coming to me, rather than me having to force them."

Yukio Kagayama:

"I sat out the first day of testing here at Guadix after I found I cracked a rib in the crash at Cartagena. It's been uncomfortable and that's meant painkillers for the past three days, but we've been able to carry on the full programme of testing. Now, I'm really looking forward to the racing."

Jack Valentine -Team Manager:

"It's been a tough test this one; the days have been shorter and we've had to work harder because of that. We've got a lot of new equipment to bed in this year and we've still work to do there, but the results we're getting are great. This test we didn't set out to capture any fastest laps; we just got our heads down and did our work, so for the lads to set the times they did today - third and fourth fastest - on tyres with a good 25 laps and more on them, that's really encouraging. We're humble enough to say we've still got work to do, but confident enough to say that we'll be well prepared come Brands Hatch."