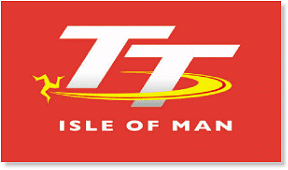 Yorkshire rider takes PokerStars Superbike race.

Heavy mist in the Douglas area saw the original 12.00pm start time pushed back to 3.30pm and when it did finally get underway, mist still lay on the bottom two miles of the course. Fifteen time champion John McGuinness forged an early lead, the HM Plant Honda rider holding a slender 0.08second advantage over Cummins at Glen Helen with Hutchinson and Donald in third and fourth. However, McGuinness was reported touring along the Sulby Straight eventually given as a retirement in the same spot but that mattered little to Cummins who was by now setting a ferocious pace.

A stunning opening lap of 131.511mph gave him an eight-second lead over Hutchinson with Guy Martin, Adrian Archibald, Dan Stewart and Ian Lougher close behind but Donald had overshot at the Nook and lost a lot of time, rejoining the circuit in 13th at the end of the first lap.

Lap 2 and Cummins continued to extend his advantage while Hutchinson, now the leader on the road, was edging clear of Martin in the battle for the remaining podium positions. Cummins' second lap was again in excess of 131mph with Hutchinson and Michael Dunlop also above 130mph, the Northern Irishman now up to fourth behind Martin. Archibald was holding on to fifth with Lougher in sixth and Donald already having climbed back up to seventh. Meanwhile, Stewart had dropped to ninth and lost more time at the pits, dropping outside of the top ten.

The new pit-lane speed limit had already claimed its first victim with Carl Rennie receiving a 30-second penalty but with a 20-second lead, Cummins was controlling affairs from his signals with Hutchinson pulling further ahead of Martin, the latter named circulating in close formation with Dunlop. Archibald was still well in contention in fifth with Donald now ahead of Keith Amor on the sole surviving HM Plant Honda for sixth. Lougher was now in eighth with Ryan Farquhar and Bruce Anstey completing the top ten at half race distance.

Cummins held a near 22-second lead when he came in to the pits for his second pit stop with Hutchinson now a similar distance clear of Martin in second, Dunlop, Archibald and Donald still occupying the top six. However, Cummins' McAdoo Kawasaki refused to fire when he left the pits and his advantage was disappearing rapidly, down to four seconds when he eventually got going. Martin was also in trouble, the second high profile rider to receive a 30-second penalty and this dropped him back to fifth, Archibald and Donald now moving up to third and fourth respectively.

There was more drama in store when Cummins failed to go through Glen Helen on the fifth lap and news eventually filtered through that he'd stopped with mechanical trouble at Laurel Bank, cruel luck for the Ramsey rider. This handed the lead to Hutchinson and with a commanding 50-second lead, the Bingley rider was on course for his fourth TT victory and he duly completed the last two laps to complete an excellent ride, also becoming another rider to join the exclusive 130mph+ club.

Martin was second on the road but still fifth on time whilst just behind him Dunlop, Donald and Amor were having a ferocious short-circuit style dice on the roads, the battle allowing the Australian to overhaul Archibald for the final podium place. At the chequered flag, Dunlop secured a brilliant second place on the Robinson Concrete/Street Sweep Honda, less than 10 seconds clear of Donald. Martin eventually took fourth, the time penalty costing him second place, with Archibald and Amor rounding out the top six, the last named the fastest man on the final lap at 129.608mph.

Lougher completed a strong ride in seventh place with Michael Rutter doing likewise on his Superstock-spec Bathams Honda in eighth. Stewart regrouped for ninth with Farquhar completing the top ten on his MSS Colchester Kawasaki, Anstey one place further back in 11th.

Dan Kneen kept the local flag flying in 12th just ahead of Ian Mackman whilst Davy Morgan stole an early march in the race for the Privateer's Championship in an excellent 14th place, Stephen Oates, Jimmy Moore, Paul Dobbs and James McBride filling the top five positions in this new Championship that recognises the efforts of privately funded teams and riders.