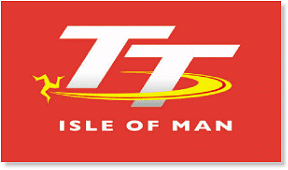 Klaffenbock and Sayle got off to a flying start to lead at Glen Helen on the opening lap but it was close as John Holden and Andy Winkle were only 0.8s adrift. Molyneux, the pace setter in practice, was back in third 1.4s further back with Simon Neary/Paul Knapton in fourth and Reeves in fifth. Just 5 seconds covered the top five at the end of the first lap.

Klaffenbock and Sayle still led at Ramsey Hairpin and had increased their lead by half a second whilst Molyneux was now a further four seconds back. Reeves had overhauled Neary for fourth with Conrad Harrison/Kerry Williams still holding onto sixth. Klaffenbock flew over the Mountain though and with a lap of 113.886mph, he completed the first lap over six seconds in front of Holden but Molyneux was closing in, now just 2.2 seconds behind.

Former World Champion Klaffenbock kept the pressure on during lap two and was rewarded with an extended lead when they swept through Glen Helen for the second time, his advantage now up to 7.8 seconds. Holden too had edged away from Molyneux who was, in turn, coming under pressure from Reeves, another ex-World Champion, the deficit now only two and half seconds.

With his fastest lap ever of the Mountain Course, 114.733mph, Klaffenbock's lead was now almost ten seconds at the end of lap two with Molyneux now in second, the Manxman lapping a shade slower than Klaffenbock to overhaul Holden. Behind, the crews were holding station with Reeves, Neary and Harrison rounding out the top six.

Klaffenbock appeared to be controlling things at the front and this was confirmed at Glen Helen with a lead of over ten seconds. Holden was still in third but he was soon reported as having retired at Sulby whilst fellow leaderboard man Harrison was also out, this time at Kirk Michael.

The race was far from over though as Molyneux and Farrance began to eat into the Austro/Manx pairing's lead and it was down to 8.7 seconds at Ramsey. This then became five seconds as they went over the tramlines at the Bungalow for the final time and the race was on to see who could come down the Mountain the quickest.

Starting at number one, Molyneux was the first to take the chequered flag and then the watch started to see if Klaffenbock could hold on. And he did – just! He crossed the line with 2.63 seconds to spare to take not only his first win but also his first podium since he first entered the races in 2004. It was, without doubt, a hugely popular victory. Reeves and Chauhan were comfortable in third with Neary and Knapton in a solid fourth.

The retirements of Holden and Harrison allowed Gary Bryan/Gary Partridge and Tony Elmer/Darren Marshall to be promoted into the top six, the duo having fine drives, with the top ten being completed by Greg Lambert/Jason Slous, Bill Currie/Robert Biggs, Dave Kimberley/Robert Bell and Gordon Shand/Stuart Graham.