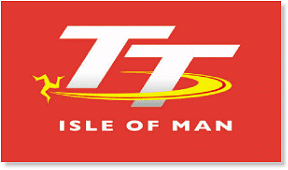 The Padgetts Honda rider went toe to toe with Michael Dunlop throughout the four laps and, having lost the lead for the first time at Ballaugh on the final lap, charged over the Mountain to keep the young Northern Ireland rider at bay. Dunlop had the consolation of claiming a new lap record at a stunning 127.836mph with Keith Amor claiming another third place.

With the Island bathed in beautiful sunshine and clear blue skies, conditions were perfect, save for blustery winds in places, for some high-speed excitement and that's exactly what everyone was treated to. Hutchinson showed his intent right from the off and led through Glen Helen although, as expected, it was again close, his advantage over Guy Martin just 0.4s. Dunlop was only a further 0.75s back with John McGuinness in fifth and Ryan Farquhar in sixth. Once more, only 4.5s separated the top ten at the first timing point.

By Ramsey Hairpin, Hutchinson's lead was still small, only 0.52s, but Dunlop had pushed Martin back to third with Bruce Anstey now up to fourth showing good form on the Relentless by TAS Suzuki. At the end of the lap, Hutchinson's lead was up to 5.4s as he lapped at 126.652mph. Dunlop was over five seconds clear of Martin with Keith Amor, Anstey and John McGuinness rounding out the top six.

It was nip and tuck on the second lap and whilst Dunlop could significantly eat into Hutchinson's lead all the way to Ramsey, bringing the gap down to 1.4s at the Hairpin, the man of the week could pull away over the Mountain, his short circuit prowess coming into play. Indeed, at the end of the second lap, his lead had increased slightly to 5.77s, Martin still in third and falling back from Dunlop but still pulling away from Amor. Local hero Conor Cummins had fought his way up to fifth with Anstey now in sixth but it was still close with only six seconds splitting Cummins in fifth and McGuinness in eighth.

A quicker pit stop by Dunlop saw him take time out of Hutchinson but by Glen Helen he found himself further adrift to the tune of 6.4 seconds. However, he again proved the stronger on the twists and turns to Ramsey and the lead was only 1.81s as they rounded the Hairpin for the penultimate time. Hutchinson edged away up and down the Mountain but as the riders went on to their final lap, the gap was only 3.19s and we were set for another thrilling finale. Martin was also under extreme pressure from Amor, only one second now splitting the duo, with Cummins still in fifth but McGuinness now back up to sixth.

At Glen Helen, Hutchinson still led but it was down to 1.9s and at Ballaugh, Dunlop led for the first time. He'd built on that on the run to Ramsey Hairpin and held a 1.82s lead as they headed up the Mountain but Hutchinson was back in front at the Bungalow by 0.49s! As everyone's become accustomed to this week, it was going to be another nail biting finish and as Hutchinson flashed across the line, he had an agonising wait for Dunlop, who'd started 50 seconds behind. Hutchinson broke Amor's three day-old lap record at 127.611mph but Dunlop went even quicker at 127.836mph. However, it wasn't enough and he had to settle for second by 1.45s.

Amor put in another 126mph+ lap to overhaul Martin and claim his fourth TT podium whilst McGuinness edged out Cummins for fifth by the minuscule margin of 0.23s. William Dunlop had another strong ride into seventh with Anstey, Ryan Farquhar and Dan Kneen rounding out the top ten.

Hutchinson's victory has seen him already wrap up the overall TT Championship with an unassailable 36-point lead but the race for the inaugural Privateers Championship is still very much on. It was American Jimmy Moore who was first home in today's race in 15th overall, one place ahead of Derek Brien with Olie Linsdell in 18th and Ben Wylie in 19th. However, it's James McBride who continues to lead overall with 60 points with Moore now in second on 54 and Brien third on 46.