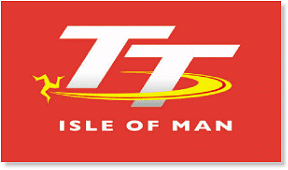 Hutchinson took the lead from the start and when close challengers John McGuinness and Conor Cummins retired and crashed respectively he was able to ease off in the closing stages to come home 37.77 seconds clear of Ryan Farquhar and Bruce Anstey. He beat the record of 11 time champion Phillip McCallen who was previously the only man in the races 103 year history to win 4 races in a week, which he achieved in 1996.

The initial 6-lap race got underway under blue skies and beautiful sunshine again and spectators were set for a thriller as Hutchinson, McGuinness, Cummins and Guy Martin went head to head over the first two laps. With all four lapping at over 130mph, there were less than six seconds splitting the quartet after the first pit stop, McGuinness leading the way from Martin, Cummins and Hutchinson.

However, Martin was reported as missing at Glen Helen third time around and news came through that he had been involved in an incident at Ballagarey. With the bike having caught fire, the hedge was also alight and the race was red flagged with the fire brigade dispatched to the scene as the whole Island held their breath in concern for one of the sport's most popular stars. Fortunately, news filtered through that the 29-year old was conscious and talking to medics, a later statement confirming that he had bruising to his lungs and minor fractures to his spine, a huge relief to all concerned.

With the race stopped, the circuit had to be cleared before racing could commence again and, when it was, at 3pm, it was reduced to 4 laps. On the restart, Hutchinson again stole the early initiative but it was close and his advantage over McGuinness at Glen Helen was just half a second. Cummins was only a tenth further back in third with Donald in fourth and Michael Dunlop and Ryan Farquhar in fifth and sixth - just three seconds splitting the top six.

By Ramsey Hairpin, Hutchinson had edged 1.14s clear and McGuinness held a similar advantage over Cummins, the gap between those two 1.5 seconds. As the riders flashed across Glencrutchery Road for the first time, Hutchinson led with an opening lap of 131.487mph but it was close with McGuinness only 0.61s adrift, the 15-times winner having clawed back some time over the Mountain. Cummins was still in contention, only two seconds behind in third whilst Keith Amor was now up in to fourth closely followed by Farquhar and Anstey, both of whom had retired from the earlier abandoned race.

Hutchinson eked out a further two seconds on the second run to Glen Helen but no sooner had he passed the timing beam than McGuinness was out, the HM Plant Honda having coasted to a halt just on the exit of the left hander. This promoted Cummins up to second but he found himself 3 seconds behind as they reached Ramsey. Amor, Farquhar and Anstey were all promoted up the order with Ian Lougher now in sixth but there was further drama when Cummins had failed to reach the Bungalow. The local hero had crashed at the Verandah although he too was conscious and talking to the medics,
reported as having arm and leg injuries.

This allowed Hutchinson's lead to rocket up to 27 seconds, another 131mph+ lap helping him on his way. Amor was close to his first ever 130mph lap in second with Farquhar, Anstey, Lougher and Michael Rutter now occupying the leading six positions.

After the pit stop, Hutchinson's lead over Amor had increased but the Scotsman was still trying and he reduced the deficit steadily around the third lap although the Bingley man was seemingly in control of everything, still over 21 seconds to the good as they went in to their final lap.

At Glen Helen, the gap had increased to 31 seconds but Amor's hopes of a Superbike podium were dashed when, remarkably, he too coasted to a halt after passing through the timing point, joining team-mate McGuinness on the sidelines. Farquhar and Anstey now found themselves in second and third, both looking to end their week's on a high.

Hutchinson was able to almost cruise round his final lap of TT2010 and he crossed the line standing on the footpegs, adopting a Superman stance for what is truly an amazing feat. Farquhar and Anstey were celebrating too, the former recording his first ever Superbike podium at the TT and the latter ending a difficult week on a positive note.

Lougher completed yet another TT year with a strong set of results, taking fourth in the Senior with Michael Rutter bringing home his Superstock-spec Honda in fifth. Meanwhile, Dan Stewart replicated his sixth place finish of 12 months ago for another top class TT result with Adrian Archibald, Dan Kneen, Davy Morgan and James McBride, the final two the first two privateers past the chequered flag.

David Johnson was again the first newcomer to finish, as he had been in the previous four races, the Australian taking an excellent 16th place overall in the race. He also finished as the fastest newcomer overall with his final lap of 123.838mph his fastest of the week.

With five wins from five, Hutchinson was the comfortable winner of the overall TT Championship taking the Joey Dunlop Trophy by a whopping 61 points from Michael Dunlop and Farquhar. Finally, in the race for the Privateers Championship, it was McBride who took the trophy, his second place in today's Senior giving him a total of 80 points, ten ahead of Moore with Morgan in third.

Jenny Tinmouth extended her title as the fastest women around the course with a final lap of 119.945mph.

The A and E consultant at Noble's hospital reported that Guy Martin had sustained bruising to both lungs and some minor fractures in his upper spine, following his accident at Ballagarey but was otherwise OK. He is expected to be in hospital for a few days and but thanked his fans from his hospital bed for all their support and reassured them that the incident had nothing to do with a lack of commitment from him!